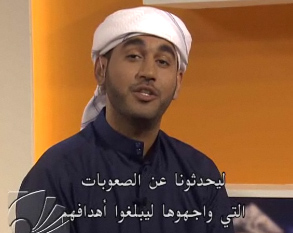 Ep 01: Careers and Education
Date - 12/10/2009 | Days - Monday
Time - GMT 16:00 | UAE 20:00
On the first episode of TWENTY SOMETHING Marwan and Annah will be focusing on education for those heading back to college and the current job market if you are trying to get your foot on the career ladder.

Studio guests Abdulmutalib Al Hashimi, Managing Director-Founder at Next Level Management & Emiratisation Consultancy and Ketaki Banga, Managing Editor of SMB Advisor Publication, will be hands on to answer the concerns that you might be facing when looking for a job.

In the Big challenge, Jalal Bin Thaneya will be telling us about the very interesting challenge he will be facing very soon – climbing Burj Dubai! to raise money and awareness for children with special needs.

The Talent of the week will be hip-hop artists Swerte and Hirabeat of The Recipe.