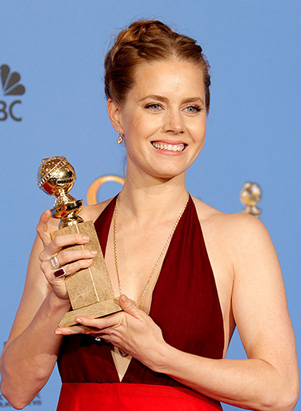 Amy Adams Wins the Golden Globe for Best Actress in a Motion Picture, Musical or Comedy
She accepted her award for her character Margaret Keane, "a woman who had such a quiet voice and such a strong heart and such a strong artistic vision and ultimately was able to use her voice," she said.

The award was tartly presented by Ricky Gervais at the Beverly Hilton in Los Angeles.

Adams, 40, was up against Julianne Moore for Maps to the Stars, Emily Bluntfor Into the Woods, Helen Mirren for The Hundred Foot Journey andQuvenzhané Wallis for Annie.

During her speech, Adams also thanked her fiancé Darren Le Gallo, 40, for being the kind of man "who would never silence my voice." She also gave credit to the "so many wonderful female role models in the audience" on behalf of her 4½-year-old daughter, saying, "You speak to her so loudly. [I'm] so grateful for all of you women in this room."

The 72nd annual Golden Globes was hosted for the third time by Tina Fey andAmy Poehler.