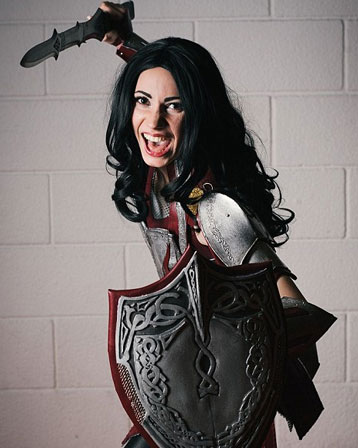 Who Says Comic Books Are Just For Kids?
Comic fans turned a London expo into a playground of their favourite superheroes and villains as they took part in the May 2015 MCM London Comic Con Cosplay Masquerade.

Cosplay involves creating elaborate costumes in honour of famous characters from film, comics and gaming.

Men and women across the country, many of whom have traditional 9-5 office jobs, leave their suits, ties and pencil skirts behind for the weekend at the ExCeL London Exhibition and Convention Centre in Royal Victoria Dock.

Instead facepaint, latex and armour are the order of the day. This year's event over the bank holiday weekend saw cosplayers dressed as Mystique from X-Men, Batman characters Harley and Joker and a scarily lifelike rendition of Tank from the computer game Left for Dead, all strut their stuff.

One person in the Saturday Masquerade was chosen to represent the UK in the EuroCosplay Championships Final and one duo in the Sunday Masquerade to do the same in the Clara Cow Cosplay Cup.

A merging of the words 'costume' and 'play', cosplay started in Japan but has now spread to the United States and Europe.

In Japan elements from cosplay are even starting to appear in street fashions as its influence spreads.

Devoted fans aim to personify the appearance and even the mannerisms of their favourite fantasy characters.

Enthusiasts get so involved they spent up to thousands of pounds and hours of their time making costumes.

Cosplay's fans consider it an art form, combining elaborate costumes and meticulous make up to bring manga, anime, comic books, video games and sci-fi films to life.

They claim that not only does how other people perceive them change, but the way they see themselves is altered when they are in costume.

The only downside of Cosplay? The 'Postcon blues, where you spend the weekend dressed elaborately and being flooded with praise and attention, only to have go to work on Monday in 'normal' clothing where no one gives you a second look.