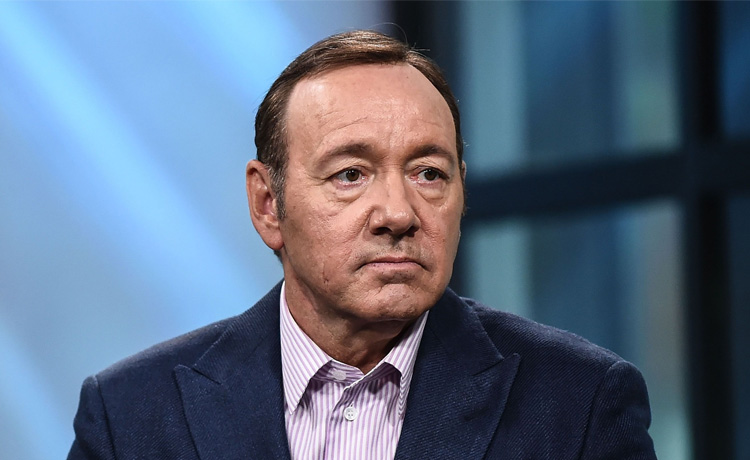 Kevin Spacey Appears in Court Over Alleged Sexual Assault
hollywoodreporter.com: Wearing a gray suit, a lavender flowered shirt and a blue polka dot tie, Kevin Spacey walked into the packed Nantucket courtroom on Monday with his legal team for an arraignment in a sexual assault case.

The appearance marked Spacey's first before Nantucket District Court Judge Thomas Barrett as the two-time Oscar winner faces one count of indecent assault and battery stemming from an incident that took place in July 2016.

No plea was verbally entered, and Spacey never spoke, though his attorneys entered a not-guilty plea on his behalf ahead of the hearing. The judge set March 4 as the next date and allowed the defense's request that Spacey not have to be present so long as he is available on phone.

After the hearing ended, Spacey left the courtroom, was whisked into a silver SUV and was taken to the Nantucket airport, where his private jet was waiting.

It was a surreal scene in the cramped courthouse, with reporters from around the world descending on the tony resort island with a population of just 10,000 during the winter months.

Spacey previously asked the judge to be allowed to skip the proceeding because he lives outside the state of Massachusetts and "my presence will amplify the negative publicity already generated in connection with this case," according to a motion filed by his legal team. But Judge Barrett denied that request. On Monday, the Judge ordered that he have no contact with alleged victim and his family.

The appearance comes just two weeks after Cape and Islands Assistant District Attorney Michael K. Giardino announced the felony charge against the former House of Cards star, whose career has been in free fall ever since actor Anthony Rapp came forward October 2017 with a claim related to today's arraignment that Spacey made a sexual advance on him when he was 14 years old.

The Nantucket case was the first to result in criminal charges for the 59-year-old actor. The alleged victim, who is the son of high-profile TV anchor Heather Unruh, was 18 at the time when he claims Spacey assaulted him after getting him drunk at the Club Car Restaurant on Nantucket in 2016.

The alleged victim is being represented by renowned Boston attorney Mitchell Garabedian, who has represented a number of victims in the Boston area Catholic priest sex abuse scandal (Garabedian is no stranger to Hollywood, with Stanley Tucci having portrayed him in the movie Spotlight, while Ted Danson played him in Our Fathers).

Prosecutors say there is video evidence that had been posted to Snapchat of the alleged assault, which is said to have included the actor sticking his hands in the teenager's pants. Spacey's legal team — Boston lawyer Juliane Balliro and Los Angeles attorney Alan Jackson — say the video doesn't show anything criminal.

In an embarrassing twist for prosecutors, The Boston Globe is reporting that Spacey may have received preferential treatment with the case initially being heard privately in a court-magistrate hearing on Dec. 20. That is rare move for cases involving felony charges.

Hours after Spacey was charged on Christmas Eve, he broke his public silence of more than a year and released a video, in which he appeared to defend himself while in character as his Netflix House of Cards alter ego, Frank Underwood.

"My confidence grows each day that soon enough, you will know the full truth," the actor said in the video that runs a little longer than three minutes and has been viewed more than 8 million times.

Spacey's fall from grace can be tied to Hollywood's #MeToo movement. In the aftermath of Harvey Weinstein's epic fall in October 2017 amid sex assault and harassment claims, a stream of alleged victims began to come forward in Hollywood, fingering high-profile industry figures like Spacey, Brett Ratner and Louis C.K. for sexual misdeeds.