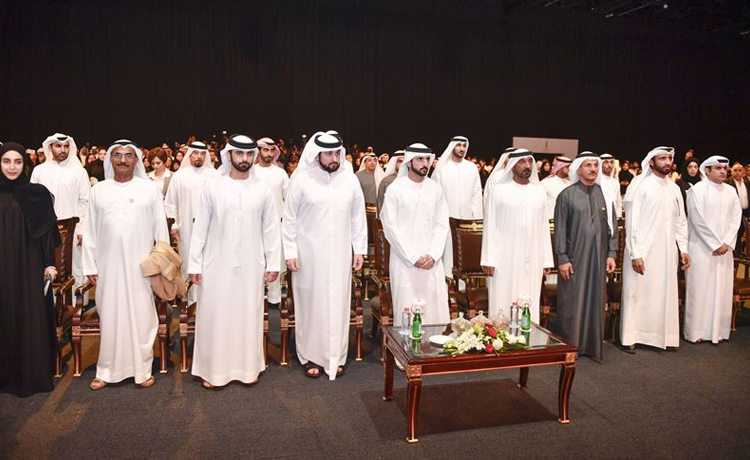 Sheikh Hamdan bin Mohammed honours Arab Contributors to Entrepreneurial Development
His Highness Sheikh Hamdan bin Mohammed bin Rashid Al Maktoum, Crown Prince of Dubai and Chairman of the Executive Council Dubai, honoured the winners of the 10th cycle of the Mohammed bin Rashid Award for Young Business Leaders, YBL, instituted by Dubai SME, the agency of Dubai Economy mandated to develop the SME sector.

Sheikha Bodour bint Sultan bin Muhammad Al Qasimi, Chairman of the Sharjah Investment and Development Authority, was named the best supporting personality in entrepreneurship development by Sheikh Hamdan bin Mohammed. Najla Al Madfa, Director-General of Sharaa, received the award on behalf of Sheikha Bodour.

Banque Misr of Egypt, the Badir Programme for Technology Incubators from Saudi Arabia, the National Fund for SME Development from Kuwait, Palestine Polytechnic University, and the Bread for Education initiative from Jordan were also honoured for their support to developing entrepreneurship across various fields in the Arab world.

Emirati entrepreneurs Shayma Nawaf Al Fawwaz and Obaid bin Touk Al Marri received the 'Best Entrepreneur of 2017' recognition.

A number of organisations across various sectors were honoured for their outstanding entrepreneurial initiatives in their respective fields by H.H. Sheikh Ahmed bin Mohammed bin Rashid Al Maktoum, Chairman of Mohammed bin Rashid Al Maktoum Knowledge Foundation.


Sheikh Ahmed bin Mohammed also honoured the winning projects from the Arab world including, the 'Five Oceans' of the Sultanate of Oman; 'Your ePayment Project' from the Hashemite Kingdom of Jordan; 'Renewable Energy Access' from Oman, and 'Al Rawi Media' from Bahrain.

H.H. Sheikh Ahmed bin Saeed Al Maktoum, Chairman of Dubai Civil Aviation Authority and Chief Executive of Emirates Group, honoured several entities for their support to entrepreneurship development in the UAE, including the Roads and Transport Authority, General Directorate of Residency and Foreigners Affairs, Dubai Holdings, Dubai Statistics Centre, the Sheikh Zayed Housing Programme, UAE University, the General Department of Punitive and Correctional Institutions of the Dubai Police, and Hazaa Al Mansouri Media.

Sheikh Ahmed bin Saeed also honoured Dubai Municipality for being the best government entity supporting entrepreneurship in the UAE and Ahmed Ibrahim Al Zarouni, Head of Procurement at Dubai Municipality for the Best Employee Supporting the Government Procurement Programme award category.

Sami Al Qamzi, Director-General of Dubai Economy, expressed his gratitude to Their Highnesses for their support to developing entrepreneurship and the youth in the country, adding that, "The Mohammed bin Rashid Award for Young Business Leaders is regarded as the highest recognition for entrepreneurial innovation and excellence. Since its inception ten years ago the Award has continued to receive the support of our leaders and progressively evolved into a significant milestone in the entrepreneurship development journey Dubai has embarked on in its strategic growth plan."

Abdul Baset Al Janahi, CEO of Dubai SME, added, "Entrepreneurial spirit is emboldened whenever it is recognized. The Mohammed bin Rashid Award for Young Business Leaders showcases not only entrepreneurial excellence but also the comprehensive support system existing not only in Dubai but across the region to enable innovative start-ups to grow into global enterprises."