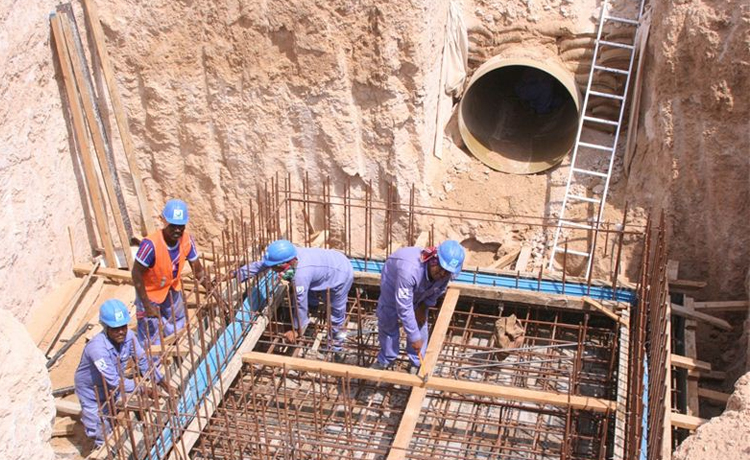 DEWA Progresses with AED 260 Million Water Project
Mediaoffice.ae: HE Saeed Mohammed Al Tayer, MD & CEO of Dubai Electricity and Water Authority (DEWA), announced that DEWA has made progress in the supply, extension and commissioning of major water transmission networks, with a total length of 46 km, and a total cost of AED 260 million, in various parts of Dubai. This supports DEWA's strategic plan to improve the efficiency and reliability of its water network to manage demand growth and increase water flow in Dubai.

"To date, approximately 13km, which is 30% of the project, has been completed. The project includes the extension of GRE (glass reinforced epoxy) main water larger pipe, to increase water flow between Sheikh Mohammed bin Zayed Road and Emirates Road along Hessa street and Al Qudra road, and along the Jebel Ali to Al Hebab road towards Emirates Road in the areas between Dubai to Al Ain road and Al Qudra.

In addition, the project also includes an extension of the main water pipeline at Al Lusaily up to the junction between Al Ain road at Jebel Ali and the Al Hebab road, and several other pipelines from Mushrif station (headed towards Al Warqa) and Al Khaleej road. This is intended to provide gravity-fed water, in case of emergency, and provide Al Reem, and other future projects on both sides of Al Qudra street, with water. This also meets the requirements of other water development projects in those areas as well," said Al Tayer.

"The project also contributes to increasing water flow in Al Warqa and Palm Deira, ensuring the continuity of water access, and raising the pressure in the network, to support existing and future projects," noted Al Tayer.

"The water transmission networks are managed with remote-controlled valves in the control centre, which contribute to the isolation of the faults in the shortest possible time, and reduce the loss of water in the network. The project also includes two sites to connect the main transmission pipelines along the Jebel Ali to Al Hebab road, and the Dubai to Hatta road, to increase water supply at Al Nakhli," added Al Tayer.

"According to the planned programme, the project is expected to be complete by May 2018," said Al Tayer.