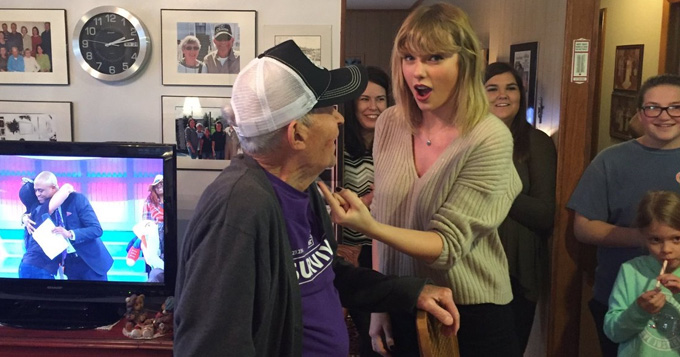 A 96-Year-Old Veteran Got A Surprise Visit From Taylor Swift
Eonline.com: Taylor Swift is making one fan's wildest dreams come true this holiday season.

Just one day after Christmas, the "Blank Space" singer decided to pack her bags and make a quick visit to Missouri. But instead of visiting one of her famous friends, the Grammy winner wanted to surprise a deserving World War ll veteran.

E! News can confirm 96-year-old Cyrus Porter received a Christmas miracle when Taylor and her parents showed up to his home in New Madrid, Mo. The artist delivered a surprise performance of "Shake It Off" and was able to meet and mingle with close to 60 relatives for more than an hour.

"My Popo was ecstatic! He was grinning from ear to ear and even had tears in his eyes," family member Caroline Fowler shared with E! News exclusively. "The first thing he said to her was 'How did you get here?' He loved every moment. He told her how he was proud of his family, his country and Taylor Swift!"

The surprise also comes at a special time for Cyrus who recently lost one of his daughters.

"It was the best day ever and our family is thankful for this!" Caroline shared. "It meant so much for the family to see him so happy!"

Family member Robert Frye added on Twitter, "It's a Christmas Miracle!!! Thank you @taylorswift13. My grandpa was so excited! Won't be able to get the smile off my grandpa's face for months."

While many family members aren't exactly sure who arranged the special guest's arrival, they do know Cyrus recently expressed his love for Taylor in a local interview with KFVS news. The video went viral, which could have helped grab the attention of the A-list singer.

"I've been to two concerts. Memphis and St Louis," he shared with the local news station. "Look what she does...she puts on a show no one else puts on...I just liked the way she did stuff."

Something tells us Cyrus likes Taylor's "Style" even more now.
Amazing experience pic.twitter.com/maXUPZSguD

— robert frye (@bert_frye) December 26, 2016