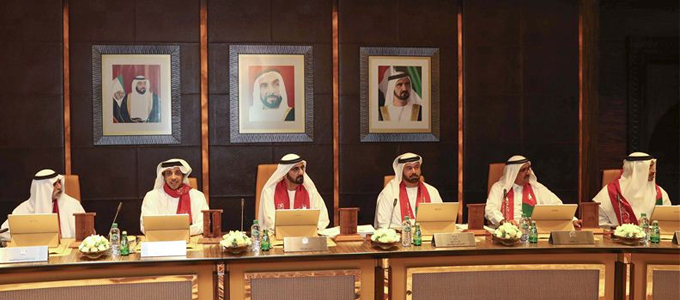 National Days are Occasions to Provide Lessons About Loving the Nation
Dubai Media Office-Tuesday, November 29, 2016 Vice President and Prime Minster of the UAE and Ruler of Dubai His Highness Sheikh Mohammed bin Rashid Al Maktoum, said that UAE national days that we celebrate every year are occasions that we mark to give lessons to future generation about the love of the nation, and to support the journey of development and given; as well as to provide prosperity to our people under the leadership of UAE President H.H. Sheikh Khalifa bin Zayed Al Nahyan.

Sheikh Mohammed remarks came as he chaired a cabinet meeting at the presidential palace, which coincides with the Commemoration Day and the 45th National Day, and in the presence of Deputy Prime Minister and Minister of Presidential Affairs H.H. Sheikh Mansour bin Zayed Al Nahyan.

Sheikh Mohammed said that Commemoration Day is one of our dearest days, where we renew our determination and loyalty to our country and nation. And to remember the sacrifices our sons the martyrs, as they are the idol for our kids. He also called people of community to stand together and make Duaa for them, and remember their sacrifices. "Tomorrow we will all stand to commemorate the sacrifices our martyrs, and to make Dua for them, as with their sacrifices we continue the journey of the "Union".

"The UAE national day is an opportunity to renew our vow and commitment to continue the journey of our founding fathers, and raise the flag of our country as well as providing a impressive image about our country to the world," His Highness said.

During the meeting, the cabinet reviewed the strategic plan of the national identity 2016-2021, under the supervision of Minister of Culture and Knowledge Development. The cabinet also tackled a number of topics and approved a number of partnership agreements.