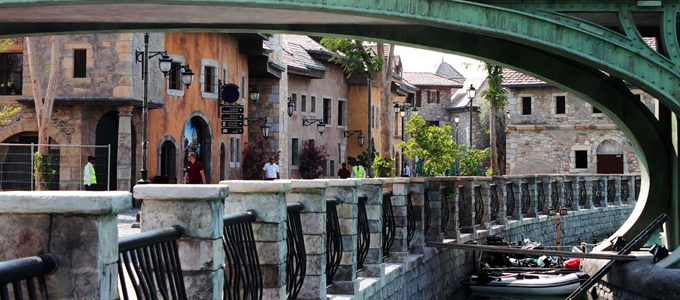 RiverLand Dubai
Riverland will connect the three theme parks and water park at Dubai Parks and Resorts, and will be open to everyone with or without a ticket to the adjoining parks. Riverland will feature themes that highlight historical eras such as a French Village from the 16th century, a Boardwalk from 1950s America, the India Gate from 1930s India and a Peninsula from the 19th century.

Marcel Hendriks, General Manager of Riverland Dubai, said: "We took our artists to France and captured the houses and replicated that feeling and fantasy of it. Then you go to Boardwalk, which is 1950s America, so you see big neon signs. "Our river is 1km long. There will be boats that will take you in the river. We will have four spaces in Riverland where you can book space for dinners and conferences, weddings and street entertainments.

"We have a multiple purpose venue. People have been asking 'can I hold a wedding there?' People do different things for weddings now and they want to do it in theme parks." iverland Dubai is a part of Dhs13.2 billion-worth Dubai Parks and Resorts, which will also feature MOTIONGATE Dubai – a theme park that will have Hollywood characters from DreamWorks Animation, Sony Pictures Studios and Lionsgate.

There will also be Bollywood Parks Dubai, a theme park that will showcase rides and attraction based on some of Bollywood's biggest blockbusters, as well as a LEGOLAND Park. Six Flags will be the park's fourth theme park but it isn't expected to open until late 2019. Riverland will open on October 31.

Adult ticket prices range from Dhs240 to Dhs330 for a one-day single park ticket, depending on the park. Multi-park entry ticket prices start at Dh480 for adults for one day and range up to Dh890 for four-day entries.