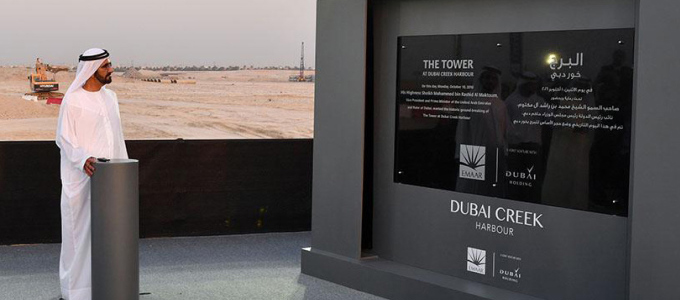 Mohammed bin Rashid lays foundation stone of tower at Dubai Creek Harbour project
Vice President and Prime Minister and Ruler of Dubai, His Highness Sheikh Mohammed bin Rashid Al Maktoum laid on Monday the foundation stone for the 'The Tower at Dubai Creek Harbour' project, the new iconic structure that will be the world's tallest tower when completed by 2020.

The ceremony was attended by H.H. Sheikh Hamdan bin Mohammed bin Rashid Al Maktoum, Dubai Crown Prince and H.H. Sheikh Maktoum bin Mohammed bin Rashid Al Maktoum, Deputy Ruler of Dubai.

Sheikh Mohammed bin Rashid said that Dubai's exceptional urban growth, which is supported by quality construction projects, is driven by the country's ambitious development plan, which seeks to achieve the welfare and happiness of the people of the UAE.

"Years ago, we launched Burj Khalifa, the tallest skyscraper in the world. Today, we are celebrating the foundation of a new structure that represents another phase in our journey to be at the forefront of growth in various sectors," he said.