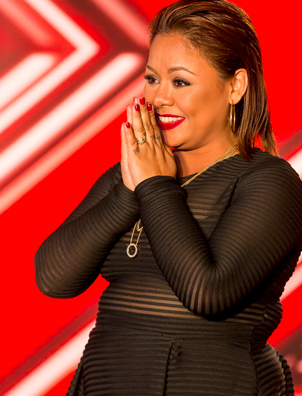 This amazing Dubai singer has been forced to quit X Factor
She may have wowed the judges with her rendition of Mariah Carey's One Sweet Day, however this Dubai-based singer is having anything but after being forced to drop out of The X Factor.

Ivy Grace Paredes, 33, sailed through several stages of the UK reality show, and was lauded as "one of the best we've had" by the famously hard to please Simon Cowell.

"She just sang our faces off," Nicole Scherzinger declared at the time. However the mum of one's dreams of taking home the X Factor title and recording contract were dashed by some visa issues.

Auditioning with Whitney Houston's All The Man That I Need, the expat easily scored four yeses from the judging panel:

The performance netted her a slot in the judges' houses round, where 24 hopefuls are whittled down to the final 12 who will perform live on TV.

Paredes would have visited the homestead of judge and music manager Sharon Osbourne, who is mentoring the over-25s category. The expat first decided to audition after being inspired by fellow Filipino band 4th Impact, who got through to the live shows last year, as well as her two-year-old daughter.

"For me, I believe this is the biggest competition and I want to be a part of it. And X Factor can give me the stepping stones I need to do good in the future because this is all for my daughter," Paredes said.