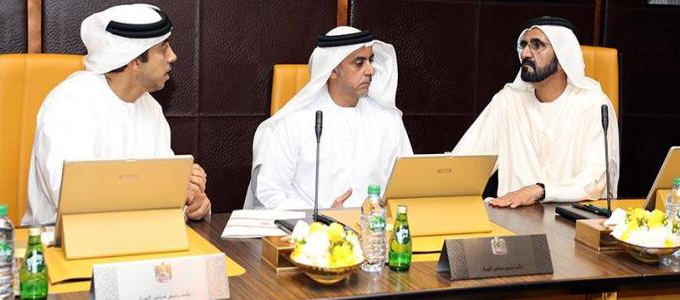 UAE adopts National Space Policy
In a UAE cabinet meeting chaired by Vice President and Prime Minister of the UAE and Ruler of Dubai, His Highness Sheikh Mohammed bin Rashid Al Maktoum, a National Space Policy has been adopted for the country, which is being hailed as the most important element in the national plan to develop the space sector.

The Space Policy is rudimentary for driving the entire sector forward within the framework of the UAE National Agenda, part of the UAE Vision 2021.

The UAE is working towards a stable and diversified economy, flexible enough to adopt new models and benefit from international economic partnerships. Sheikh Mohammed said that the UAE is taking pioneering steps towards not only joining the international space exploration community, but also competing with established players in the field before the country's Golden Jubilee in 2021.

Addressing the cabinet, he explained that the UAE's ambitions in the field fall in line with the vision of its founding fathers. The meeting was chaired at the Presidential Palace in Abu Dhabi, and attended by His Highness Lt. General Sheikh Saif bin Zayed Al Nahyan, Deputy Prime Minister and Minister of the Interior, and His Highness Sheikh Mansour bin Zayed Al Nahyan, Deputy Prime Minister and Minister of Presidential Affairs.

"We have a strong economy, solid infrastructure, national competencies, and other accomplishments enabling us to enter the space race in time for our Golden Jubilee," Sheikh Mohammed said.

"The nation's founder had incredible foresight when he hosted a delegation from NASA in 1976 in an effort to send a clear message to his people and the people of the region and the world that our Emirati and Arab ambitions know no limits, and to draw a roadmap for the UAE to build on our ancestors' knowledge in astronomy, navigation, and space."