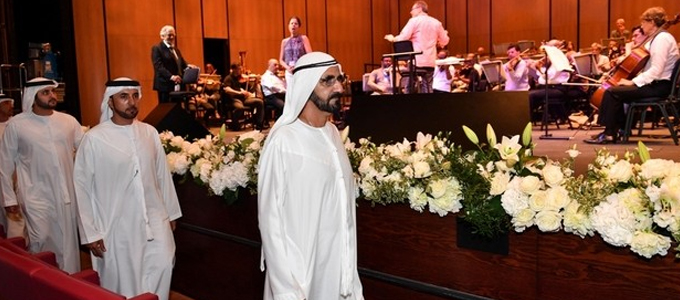 Sheikh Mohammed tours Dubai Opera
The Dh3.7 billion IMG Worlds of Adventure is wholly owned by the Ilyas and Mustafa Galadari Group, and stretches over an area of 1.5 million square feet, making it the largest indoor theme park in the world.

The Vice President and Prime Minister of UAE and Ruler of Dubai His Highness Sheikh Mohammed bin Rashid Al Maktoum, accompanied by His Highness Sheikh Maktoum bin Mohammed bin Rashid Al Maktoum, Deputy Ruler of Dubai, visited the Dubai Opera, which opened on Wednesday. He toured the new opera house, the dhow-shaped design, depicting Dubai's maritime culture and seafaring heritage.

Sheikh Mohammed said the cultural progress witnessed in the UAE has contributed in positioning the country as a beacon for innovation and intellectual excellence. He said: "I am pleased with the fast-paced development of the cultural scene in the UAE.

"Culture is one of the life's main pillars, a cornerstone for building communities, a mirror for their progress and a driving force for creativity and excellence." Sheikh Mohammed described the Dubai opera as an important icon that adds to the cultural achievements of the UAE and the region.

"The Dubai Opera has a great value as a new platform for arts, an effective cultural bridge and an intellectual window for the infusion of the world's creative arts," he said. Present were Mohammed Ali Al Abbar, Chairman of Emaar Properties and Khalifa Saeed Sulaiman, Director General of Dubai Protocol and Hospitality Department.