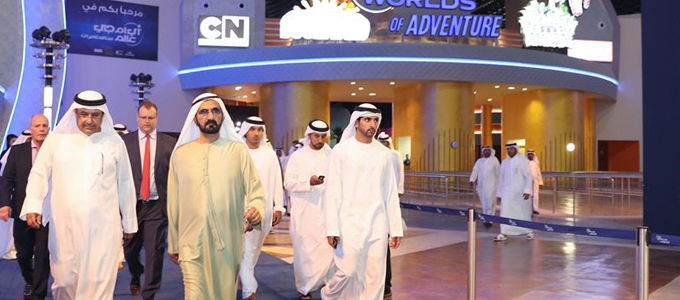 Sheikh Mohammed hails role of private sector as IMG Worlds theme park opens
The Vice President and Prime Minister of UAE and Ruler of Dubai, His Highness Sheikh Mohammed bin Rashid Al Maktoum, said that the private sector is a key partner to the public sector in the UAE's economic development growth and in the country's ambitious vision for comprehensive development.

Sheikh Mohammed made the remarks while visiting the IMG Worlds of Adventure, the world's largest indoor theme parks, which opened in Dubai on Wednesday.

Sheikh Mohammed further said that the partnership between the public and private sectors has had an impact on all of the state's development phases since its inception, and continues to have a unique impact on the economic landscape of the country.

He said the strong role played by the private sector and its high-quality projects have created significant value for the UAE. He was accompanied during the visit by His Highness Sheikh Hamdan bin Mohammed bin Rashid Al Maktoum, Crown Prince of Dubai, His Highness Sheikh Maktoum bin Mohammed bin Rashid Al Maktoum, Deputy Ruler of Dubai.

Commending the solid investments that have driven economic growth and development, Sheikh Mohammed said that the public-private partnership is a key pillar in building the nation and realising the people's aspirations.

He added that private sector investment in major projects plays an important role in enhancing the UAE's leading position as a model for development, and boosting its attractiveness for local and foreign investors. He referred to the remarkable developments in the hospitality, leisure and tourism industry sectors, which are key economic pillars that supports the UAE Vision 2021 and the National Agenda, which aim to make the UAE the region's economic, tourism and trade capital.