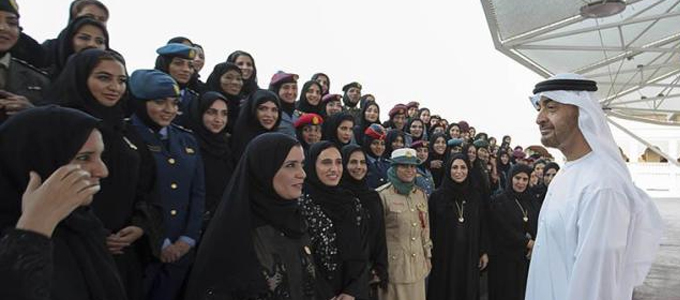 Mohamed bin Zayed receives Dr. Amal Al Qubaisi and a number of women leaders
His Highness Sheikh Mohamed bin Zayed Al Nahyan, Crown Prince of Abu Dhabi and Deputy Supreme Commander of the UAE Armed Forces, has said that the UAE's development and growth strategy is essentially based on investment in its human capital, saying that this "real wealth" is what will secure the nation's bright future.

He also stressed the importance of the contribution of women to this process, and praised their achievements in all fields.

His Highness made these comments today at Al Bahr Palace in Abu Dhabi, where, on the occasion of Emirati Women's Day, he received Dr. Amal Abdullah Al Qubaisi, Speaker of the Federal National Council, along with a number of ministers and FNC members, as well as women leaders from the civil and military sectors.

Speaking during the meeting, H.H. Sheikh Mohamed said that women in the UAE have assumed their natural place in the process of national development, thanks to the future and long term vision of the late Sheikh Zayed bin Sultan Al Nahyan who paved their way, enabling them to defy the odds and overcome any obstacles with confidence, as well as to participate in building the nation alongside their brothers.

He also referenced the support given by President His Highness Sheikh Khalifa bin Zayed Al Nahyan to women, which, Sheikh Mohamed said, stems from his profound belief in the vital role that women play in the building of the nation, its development and prosperity.