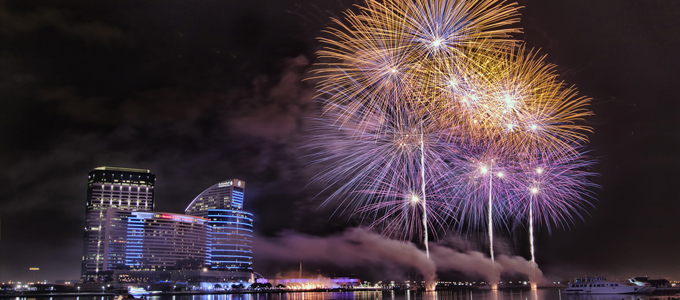 Eid In Dubai
The Dubai Festivals and Retail Establishment (DFRE), an agency of the Department of Tourism and Commerce Marketing (Dubai Tourism), has unveiled the highlights of its annual 'Eid in Dubai' celebrations aimed at further enhancing Dubai's position as the holiday destination of choice for families and tourists during the joyous occasion of Eid Al Adha.

Held for ten days from 8 -17 September and featuring a diverse range of events and activities, the ninth edition of 'Eid in Dubai – Eid Al Adha' will bring together people from different communities and cultures from within and outside the emirate to showcase the true spirit of Dubai's multicultural environment under the theme, "United in Celebration".

Highlights of this year's 'Eid in Dubai – Eid Al Adha' celebrations include live concerts featuring some of the iconic Arab singers, Rabeh Saqer and Shamma Hamdan on 13 September and Mohamed Abdo on 16 September; a performance by Pakistani singer and Sufi maestro Ustad Rahat Fateh Ali Khan; a Looney Tunes show featuring Daffy Duck and Bugs Bunny, spectacular fireworks shows and numerous events for families and children hosted by malls across Dubai. In addition to the entertainment offering, Eid shoppers can avail themselves of the opportunity to win prizes up to AED 1.5 million in the 'Shop. Spin & Win' promotion run by DFRE in collaboration with the Dubai Shopping Malls Group.