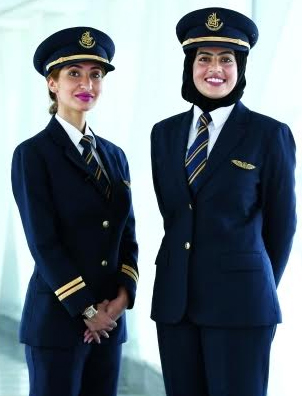 Sky's The Limit: Two Emirati women pilots fly high
Following over two years of tough training, two Emirati women - Bakhita Al Muhairi and Alya'a Al Muhairi - received wings to fly and became pilots with Emirates airline. Their dedication and ambition led the two 23-year-old women soar high and train with the best airline in the world.

The two young Emirati pilots feel empowered to represent their nation around the world.While Bakhita is trained to fly a Boeing aircraft, Alya'a pilots Airbus.

Talking to Arabic daily Al Bayan, Bakhita said that she was her mother's only hope, particularly after the death of her father.She was determined not to disappoint her mother and studied hard to fulfil her promise. Bakhita said her mother has been her strength and has always encouraged her to strive for more in life after her father's death.

As she takes the sky, the pilot gives credit to her mother for allowing her to join the larger family represented by Emirates airline four years ago without any hesitation. She added that her mother was very confident of her abilities and that trust helped her to overcome difficult situations.

On the other hand, Alya'a wanted to prove herself to her father who was hard to impress. She was also trying to stand out from her six brothers. Alya'a set off to see her dream come true as an Airbus pilot and deservedly earned her family's applause.

She was brought up in a family where education was a priority and so she studied hard to specialise in chemical engineering. It was her passion to fly that drove her to the Emirates training program in aviation and she travelled for about three years between Britain and US. Alya'a said she used to shudder with fear at the beginning of her practical training but quickly adapted with the situation.

Both the women received great attention from the Emirates management during their training period. Bakhita and Alya'a find it funny how their parents still worry about them, especially their mothers.

They said, it is almost a ritual to call their mothers every time before take-off and landing.