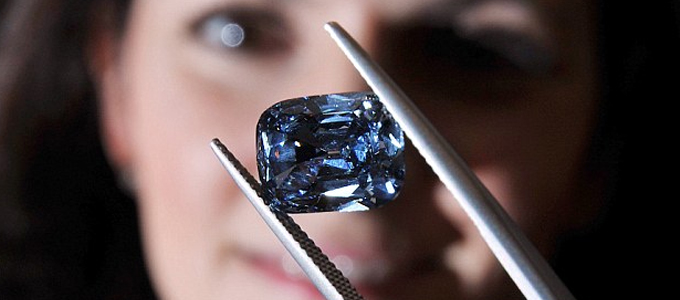 City Of Diamonds
Largest and rarest blue diamond worth AED 140Mln..

The diamond, whose 'fancy vivid' designation rates it the highest and clearest saturation colour blue possible, is estimated to sell for $38 million to $45 million.

The auction comes as the worldwide market for jewellery has sagged. Sales, according to Euromonitor International, dipped more than four per cent in 2015, from $38.5 billion to $36.9 billion. The top of the market, however, has demonstrated consistent, record-setting resilience.

In 2008, the London jeweller Graff paid a record-breaking $24.3 million for a fancy deep grayish-blue diamond at Christie's London; two years later, Graff broke another record, paying $45.6 million for a 24.78-carat pink diamond at Sotheby's Geneva.

Last year, the Hong Kong billionaire Joseph Lau broke that record by paying $48.4 million for a 12.03-carat, fancy blue diamond at Sotheby's Geneva. (The night before, he paid $28.5 million for a 16.08-carat pink diamond at Christie's; both jewels, totalling $77 million, were reportedly purchased for his then seven-year-old daughter.)

The sale of the Oppenheimer Blue will come on the heels of yet another potentially record-breaking sale, when a 9.54-carat blue diamond, once owned by the child star Shirley Temple, goes on sale at Sotheby's in New York in April for $35 million.