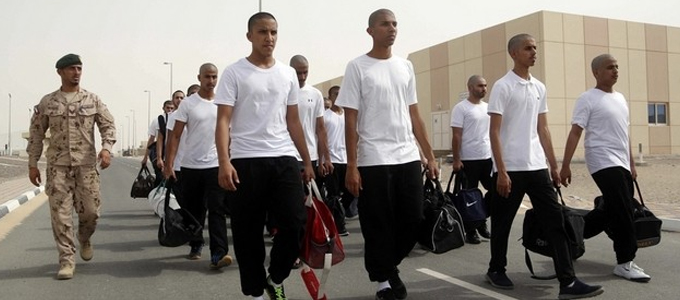 Sixth batch of National Service recruits on march to training
Male and female high school graduates began their military training at Armed Forces' National Service centres on Saturday.

Brig Gen Pilot Sheikh Ahmad bin Tahnoun Al Nahyan, chairman of the National and Reserve Service Authority, said he was proud of the young Emiratis who had answered the call of duty, reported state news agency Wam.

Sheikh Ahmad said the recruits' enthusiasm to serve "reflected their loyalty and love for their country".

"Apart from building capacities of those young men, militarily and physically, and training them to carry weapons to defend themselves and families, and protect their nation's gains in times of peace and war, the National Service also develops and builds minds through a series of informative religious, security and patriotic lectures.

"These heighten their awareness and makes them immune to extremist and destructive ideologies," he said. Mother-of-seven Fatima Saif, from Abu Dhabi, said she was worried for her youngest son, Abdulla, 17, but was proud of and happy with what he would gain.

With one of her older sons, Ismail, now seven months into his National Service, Ms Saif said she had already seen the benefits of his experience. "The whole family saw a positive change in Ismail – he was more energised, he became calm and more caring and selfless," she said.

"We are hoping Abdulla will also change positively, become more active and less dependent on his electronic devices and value his social life. It will toughen him up inshalla."

The year-long programme's first phase will consist of four months of training in physical fitness, weapons handling, discipline, and leadership skills designed to mould the recruits to military life.

That will be followed by technical training, which will place conscripts in specific military professions.