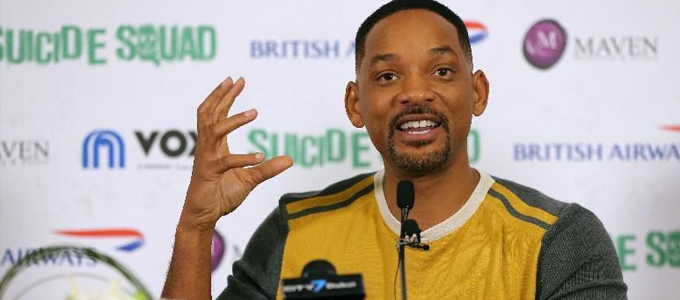 Will Smith attends Dubai red carpet screening of Suicide Squad
It was Hollywood star Will Smith's turn to be entertained on Sunday evening when the Men in Black actor attended the red carpet screening of his latest movie, DC's Suicide Squad, at Vox Cinemas in Deira City Centre.

The A-lister looked on admiringly as he was treated to a Yola – a traditional Emirati cane dance - and even borrowed a cane to show off a few moves of his own.

Crowds had begun gathering at the cinema at around 1pm – some five-and-a-half hours before Smith's scheduled red carpet appearance – and organisers estimated that "thousands" had made the trip in the hope of catching a glimpse of their hero, who diverted from the red carpet to sign autographs for his delighted, screaming fans.

Public access to the area around the cinema was halted at around 5pm for safety reasons.

Just 550 lucky ticket holders attended the screening itself, which also served as the official launch for Vox's new Virgin Radio Max screen – the largest in the Middle East at 408 sq m.