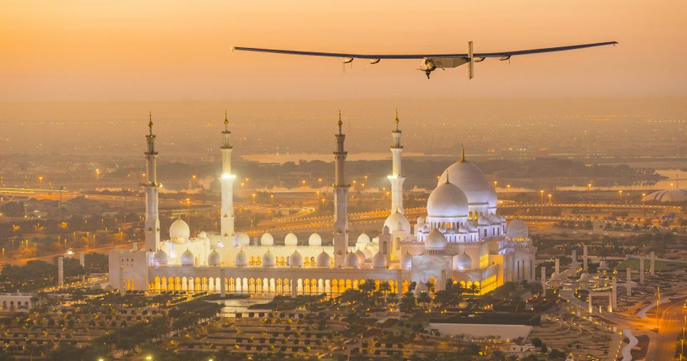 Feat opens new applications for renewable energy: VP
His Highness Sheikh Mohamed Bin Zayed Al Nahyan, Crown Prince of Abu Dhabi and Deputy Supreme Commander of the UAE Armed Forces also took to Twitter saying , "a bright page of innovation is written down with the success of @solarimpulse journey around the world. Congratulations to the crew."

"We hope the success of solar impulse helps to deliver Abu Dhabi's message about the need to invest in clean energy and encourage innovation."

"Masdar will always motivate innovation; & solar impulse arrival to Abu Dhabi is not an end, it is a new beginning towards more achievements. We congratulate #Switzerland on this success which proves that partnership and cooperation for the good of mankind is our ultimate goal."

Lieutanant General Sheikh Saif Bin Zayed Al Nahyan, Deputy Prime Minister and Minister of the Interior, inspected the Solar Impulse 2.

Sheikh Saif confirmed the keenness of the wise leadership of President His Highness Sheikh Khalifa Bin Zayed Al Nahyan, Sheikh Mohammed Bin Rashid and Sheikh Mohamed to support innovation.