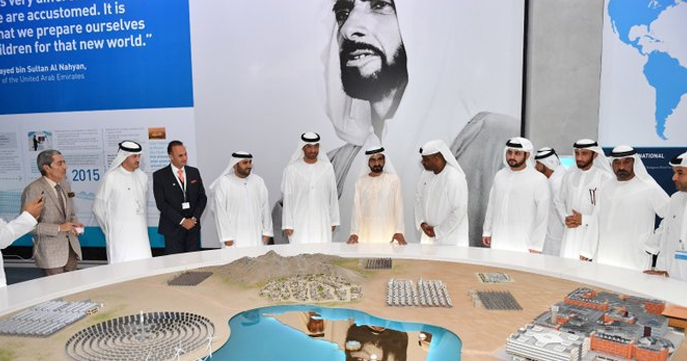 Sheikh Mohammed bin Rashid visits Masdar headquarters
Vice President and Prime Minister of the UAE and Ruler of Dubai His Highness Sheikh Mohammed bin Rashid Al Maktoum has visited today the headquarters of Abu Dhabi's renewable energy company, Masdar, in the capital Abu Dhabi, where he toured Masdar City and reviewed major clean energy projects and initiatives.

HH toured Masdar city, which hosts a number of international firms and R&D centers that focus on renewable energy including Masdar Institute, the world's first graduate-level university dedicated to providing real-world solutions to issues of sustainability.

During the visit, Sheikh Mohammed highlighted the importance of innovation, clean technology and 'positive energy' in promoting the sustainable development of the UAE, and said that the country, through initiatives such as Masdar, was demonstrating its capacity to lead the world in helping to secure a clean energy future.

"Masdar has played an integral role in building a robust foundation for sustainable development within the UAE and globally, along with other clean energy projects such as Mohammed Bin Rashid Al Maktoum Solar Park in Dubai. They honor the vision and legacy of the UAE's Founder Sheikh Zayed bin Sultan Al Nahyan, and the continued support and guidance of His Highness Sheikh Khalifa bin Zayed Al Nahyan, President of the UAE, and His Highness Sheikh Mohamed bin Zayed Al Nahyan, Crown Prince of Abu Dhabi and Deputy Supreme Commander of the UAE Armed Forces ," Sheikh Mohammed said.