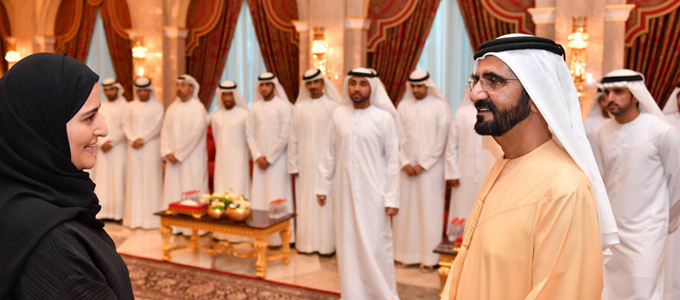 Sheikh Mohammed bin Rashid Al Maktoum receives top students
28-6-2016/ His Highness Sheikh Mohammed bin Rashid Al Maktoum, Vice-President and Prime Minister of the UAE and Ruler of Dubai, received a group of top-achieving students for the academic year 2015-2016 at Zabeel Palace in the presence of Sheikh Hamdan bin Mohammed bin Rashid Al Maktoum, Crown Prince of Dubai, and Sheikh Maktoum bin Mohammed bin Rashid Al Maktoum, Deputy Ruler of Dubai.

Congratulating the post-graduates on their excellence, Sheikh Mohammed said they still have a long way to go to become future leaders of the government and private sectors.

He paid tribute to the founding father of the UAE, the late Sheikh Zayed bin Sultan Al Nahyan, President His Highness Sheikh Khalifa bin Zayed Al Nahyan and His Highness Sheikh Mohamed bin Zayed Al Nahyan, Crown Prince of Abu Dhabi and Deputy Supreme Commander of the UAE Armed Forces, for sparing no efforts to extend full moral and material support to Emirati students.

Sheikh Mohammed said he takes pride in the students' excellence and perseverance and urged them keep up the good work. He noted that the UAE is an advanced country and not a developing nation, thanks to the efforts of its men and women.

He further noted that it is important to engage in scientific research. Concluding, Sheikh Mohammed told the students that the UAE and its leaders count on them in the process of sustainable development.