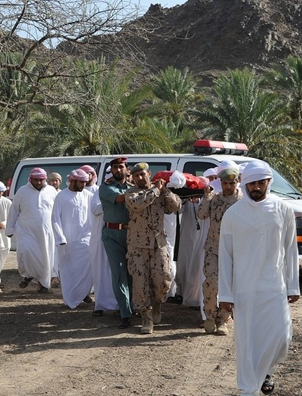 Bodies Of Two Martyrs Arrive In AbuDhabi
Ahmed Al Zeyoudi, a 34-year-old father of twins, and Abdullah Al Yamahi, 26, who was to become a father for the first time, were taking part in the Saudi-led Arab coalition's Operating Restoring Hope when their helicopter crashed.

Their bodies arrived to a military reception at Abu Dhabi Executive Airport, Al Bateen on Tuesday, according to UAE state news agency Wam. Abdullah, from Marbad, near Masafi, was married last year and his wife is due to give birth next month. He had four brothers and five sisters.

Ahmed's wife is expecting their third child. They have six-year-old twins, a boy and a girl. Abdullah graduated from Khalifa bin Zayed Air College four years ago. His family last saw him on June 6, the first day of Ramadan, and he was always in contact with them. "He is the son of the UAE, he died while serving the country and while doing the thing he wanted most, being a pilot," said Mohammed Al Yamahi, his 60-year-old father.

"He contacted me using WhatsApp on Monday, as usual, to check on me and on his mother before he took off. He was excited to spend Eid Al Fitr with us and with his newborn, but now he will celebrate Eid in Heaven.