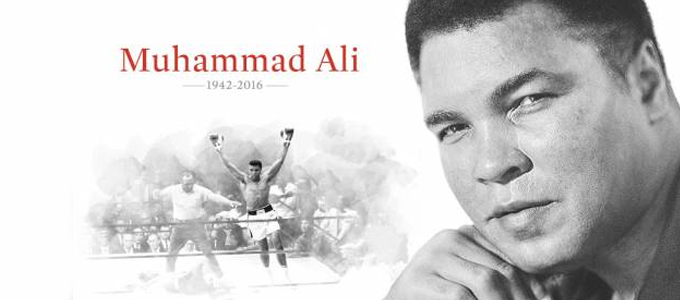 Muhammad Ali, World Mourns Passing of Sporting Icon..
6-6-2016/ A very sad day for the world of sports and the world in general as the boxing legend Muhammad Ali passed away at the age of 74 after being admitted to a hospital in Phoenix, Arizona, USA. Ali had suffered from Parkinson's syndrome since 1984, and his condition was complicated by a respiratory illness. He is survived by his nine children, including daughter Laila — who like her father became a world champion boxer — and his fourth wife, Lonnie. Ali was born on January 17, 1942 and his interest in boxing began at age 12, after he reported a stolen bicycle to a local police officer, Joe Martin, who was also a boxing trainer.

Widely considered as the all-time great, the world mourns Ali's death as tributes and eulogies are pouring in from all over the world for one of the greatest boxing champions. World leaders, intelligentsia, politicians, religious leaders, social activists, media personalities, sportspersons and celebrities have paid effusive tributes to this larger than life man. Ali who had adoring fans in every continent, even among those age groups who had never watched his games, stands tall as one of the most recognisable people on the planet for his sporting ability and the stances he took.

Ali at a young age became a controversial figure not merely for his naturally unique talent, but also because of his conversion to Islam and name-change after an upset title-win over Sonny Liston. Ali was also a civil rights campaigner and a poet who transcended the boundaries of sport, race and nationality, and touched lives in a way that was singularly his own. His fight against Parkinson's disease for about three decades is a lesson in resilience of mind over matter, of a will power that is stronger than the physical blows of a disease that breaks the body bit by bit. Ali even after his retirement from boxing, in his fight against the incurable disease, remained the utterly fearless fighter that he was known to be all his life.