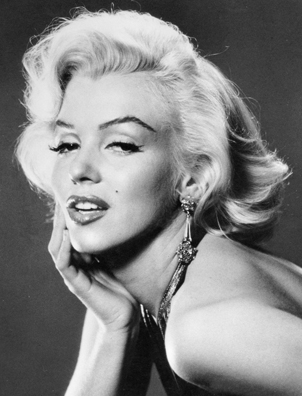 Marilyn Monroe's 90th Birthday Would've Been Today..
2-6-2016/ eonline.com/ It's been over 50 years since Marilyn Monroe's tragic death, but her legacy has undoubtedly lived on. Today would have been Marilyn's 90th birthday, and fans around the world have taken to social media to pay tribute to the late Hollywood icon. To this day, the blond beauty's impact and influence can be felt, and some of the biggest stars of today are often compared to the original Norma Jeane Baker.

Marilyn certainly had her struggles, but she'll go down in history as the forward-thinking woman who epitomized old-school glamour. Here's a look at some of today's celebrities who've been compared to the late legend herself.

1. Kate Upton: It's easy to see how the model-actress's looks have been likened to Marilyn's since the start of her career. But while Kate is flattered, she doesn't find that the comparison applies to much beyond her looks.

2. Lindsay Lohan: Back in 2008, the star stripped down for a series of Marilyn-inspired photos in New York Magazine. She also named her now-defunct leggings line 6126 as an homage to Marilyn's June 6, 1926 birthday.

3. Kim Kardashian: Kanye West, Carine Roitfeld and Givenchy's Riccardo Tisci have all compared the Keeping Up With the Kardashians star to Marilyn.

4. Scarlett Johansson: Harper's Bazaar pegged the actress as "Our modern Marilyn," and they certainly weren't the only ones to see the resemblance. While flattered, Scarlett initially struggled with the comparison.