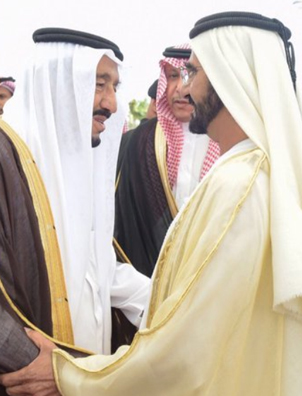 Vice President Arrives In Jaddah For GCC Meeting
1-6-2016/ gulfnews/ His Highness Shaikh Mohammad Bin Rashid Al Maktoum, Vice-President and Prime Minister of the UAE and Ruler of Dubai, arrived on Tuesday in the Saudi Red Sea city of Jeddah, leading the UAE delegation to the 16th Consultative Meeting of leaders of the Gulf Cooperation Council.

Shaikh Mohammad was received by Saudi King Salman and Prince Khalid Al Faisal Al Saud, the king's adviser and governor of the Makkah region, and Abdul Latif Bin Rashid Al Zayani, Secretary General of the Gulf Cooperation Council, as well as other princes and senior officials.

Shaikh Mohammad is accompanied by a high-level delegation that includes Shaikh Mansour Bin Zayed Al Nahyan, Deputy Prime Minister and Minister of Presidential Affairs; Shaikh Abdullah Bin Zayed Al Nahyan, Minister of Foreign Affairs and International Cooperation; Mohammad Bin Abdullah Al Gergawi, Minister of Cabinet Affairs and The Future; Ali Bin Hammad Al Shamsi, Deputy Secretary-General of the National Security Council; Khalifa Saeed Sulaiman, Director-General of the Department of Protocol and Hospitality in Dubai; and Mohammad Saeed Mohammad Al Dhaheri, UAE Ambassador to Saudi Arabia.