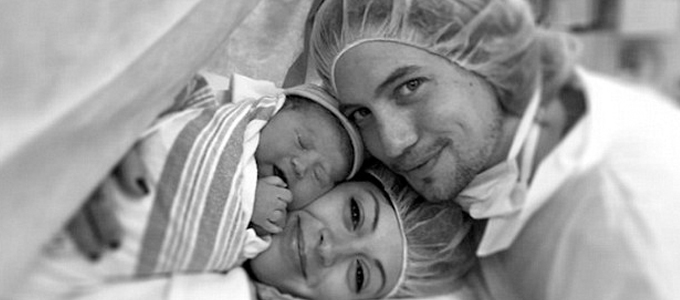 Our daughter is born!' Twilight vet Jackson Rathbone welcomes baby girl with wife Sheila
1-6-2016/ dailymail.co / The actor shared a snap on Tuesday from a hospital room with his newborn daughter and wife Sheila Hafsadi. The new mother and father are dressed in hospital scrubs as they cuddle the adorable child.

Jackson wrote on Twitter: 'Today!! Our daughter is born!! Presley Bowie Rathbone 8lbs 2oz Welcomed into the world at 8:38am, with love & joy.' The day before he posted another snap of his wife's baby bump on Instagram on Monday. 'The wifey at #39weeks and one day! Soon, baby, soon..(photo he captioned the pic, giving a shout out to jewelry designer Heidi Lambert who took the picture.

The couple announced they were expecting via Instagram in March, when Sheila was already seven months gone, in a black and white throwback snap to her first pregnancy. They appear to be on holiday, sitting at a table with Sheila showing off her huge baby bump in a bikini.

The couple met when he was touring with his band, 100 Monkeys, and tied the knot in September 2013, 15 months after Monroe was born. Meanwhile Jackson has been busy since the last film in the four-movie Twilight Saga franchise, based on Stephenie Meyer's bestsellers, wrapped in November 2012. He has five movies set up this year: City Of Dead Men, The Concerto, Justice, Tokal and Adi Shankar's Gods and Secrets, with Heart, Baby in 2017.