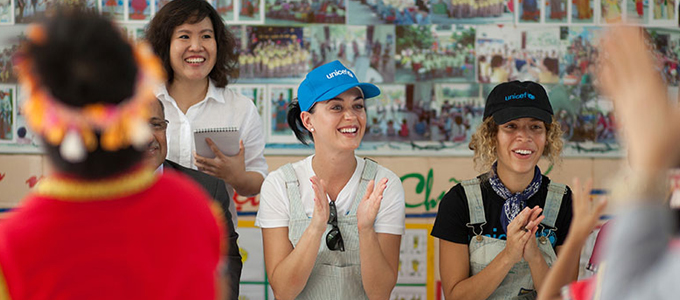 Katy Perry Visits Impoverished Children in Vietnam: 'We Have to Help Them Fight for Their Dreams
1-6-2016/ people.com/ The pop star and UNICEF Goodwill Ambassador recently traveled to the rural Ninh Thuan province in Vietnam, where she met many families with disabled children who lack proper education, water, sanitation and hygiene.

"It was heartbreaking to meet a grandmother who was left to care for four grandchildren after her daughter passed away. The family lives off a bumpy path in a remote village in the hills, and one of the grandchildren, a five-year-old named Linh, became severely malnourished. If a UNICEF-trained outreach worker had not come to the village, and made sure Linh got the care she needed, she might not be alive today," Perry, 31, described. "Linh is one of millions of children who face such challenges every day. That's something we should all be worried about."

Many of the children Perry had interacted with told her about their dreams of becoming doctors and teachers to break the cycle of poverty their parents are living in.

"All the children I met have incredible dreams. We have to help them fight for those dreams," Perry stressed. "Investing in the most disadvantaged to give them a fair chance in life is not only the right thing to do, it is the best way to break the cycle of poverty and drastically improve children's health, education and well-being."

With her Vietnam trip, the singer hopes to draw focus to issues affecting millions of children, like those living in Ninh Thuan.

"UNICEF works to ensure that every child, urban or rural, rich or poor, has a chance to thrive, to grow and to contribute to their families and communities as well as to have the opportunity to shape the world that we live in," said Perry.

The 13-time Grammy nominee was appointed as UNICEF's Goodwill Ambassador in December 2013. Earlier that same year, Perry visited Madagascar as her first UNICEF mission.