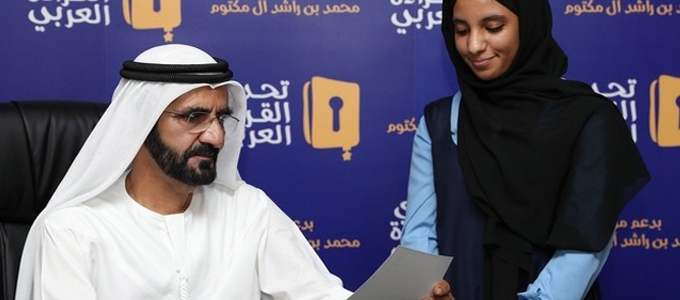 Vice President Instructs Certificates be Awarded to Students..
26-5-2016/ theNational.ae/ Sheikh Mohammed bin Rashid, Vice President and Ruler of Dubai, has handed out certificates to the young bookworms who completed the Arab Reading Challenge. On his Twitter account, Sheikh Mohammed thanked the students who participated, saying he would issue certificates to anyone who had read 50 books and that 50,000 children completed the challenge.

"I began fulfilling my promise today and signed the first set [of certificates], which I will deliver personally, and we will have certificates for each one of you delivered to your school." he tweeted on Wednesday.

The first person to receive a certificate was Fatima Al Nuaimi.

More than 160,000 students from 828 schools took part in the challenge, with participants managing to read a total of 5 million books in the school year. Sheikh Mohammed began signing and distributing the first 15 certificates on Wednesday, in the presence of Sheikh Hamdan bin Mohammed, Crown Prince of Dubai, Sheikh Maktoum bin Mohammed, Deputy Ruler of Dubai, and Sheikh Ahmed bin Mohammed, chairman of the Mohammed bin Rashid Al Maktoum Foundation.

Sheikh Mohammed said the country's ambitions was to bring up a generation of well-educated, cultured and tolerant students, capable of changing the future for the better. "My advice to every parent, teacher and responsible person in our schools is to not give up on this dream," he said.

Sheikh Mohammed announced the Arab Reading Challenge in September last year with the goal of getting a million children in the region to each read 50 Arabic books, with more than Dhh11 million in rewards for teachers, pupils and their families and Dh3.7 million for the top school.