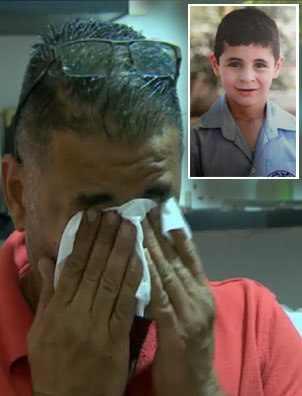 Grieving Father of Murdered Boy Shares His Thoughts..
25-5-2016/ 7days.com/ The suspect in the killing of Obaida Ibrahim Al Aqrabawi has a criminal record for illegal consuming alcohol and breaking into apartments, Dubai's CID chief has said. Obaida disappeared from outside his home in Sharjah on Friday night. His body was found dumped in Dubai the next day. General Khalil Ibrahim Al Mansouri, Assistant Chief of Dubai Police for Criminal Investigations, said of the suspect in the case, Nedal Issa Abdullah, 48: "He was arrested before for consuming alcohol and breaking into two flats in Sharjah."

He said that forensics experts have examined Obaida's body. "The report stated there are signs of violence on the boy's body, suggesting he tried to resist the killer," Al Mansouri said. "Such crimes do not exist in the UAE." Al Mansouri asked parents to ensure that children are not left to play outside alone. He said: "You need to escort your child if they want to leave the house and play outside." Meanwhile, Yousef Al Bahar, a criminal lawyer in Dubai, said prosecutors are likely to ask for the death sentence.

He said: "The details of the case suggest he will be charged with kidnapping, murder, sexual abuse and consuming alcohol." Al Bahar said if convicted, Abdullah is likely to face the toughest punishment. "Execution in the UAE is carried out by firing squad." Last night, it was announced Abdullah has been referred to Dubai Public Prosecution, meaning he will stand trial in Dubai.