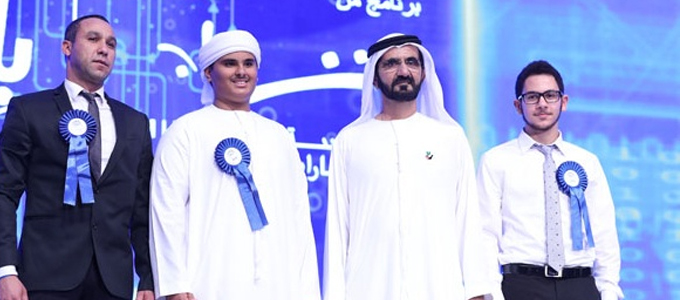 Vice President Honors Think Science Competition Winners
25-5-2016_ WAM DUBAI: Vice President and Prime Minister of the UAE and Ruler of Dubai, His Highness Sheikh Mohammed Bin Rashid Al Maktoum, honoured on Tuesday 50 young Emirati scientists who won the Think Science Competition 2016 at a ceremony held at the Higher Colleges of Technology in Dubai on Tuesday. Organised by Emirates Youth Foundation, the event was also attended by Sheikh Hamdan Bin Mohammed Bin Rashid Al Maktoum, Crown Prince of Dubai and Sheikh Hamdan Bin Rashid Al Maktoum, Deputy Ruler of Dubai and UAE Minister of Finance Sheikh Maktoum Bin Mohammed Bin Rashid Al Maktoum, Deputy Ruler of Dubai.

"Our responsibility is to prepare generations for future and our ambitions are to have scientists who contribute to the progress of mankind," Sheikh Mohammad said during the award ceremony of the competition's fourth edition. He added that the new generations should master innovation, analysis, communication and leadership skills more than ever before.

"We need to promote the concept of innovation among young people as well as creating appropriate environment to encourage our schools and universities to provide them most important skills in research methodologies and discovery." The competition is part of the Emirates Foundation's Think Science programme, which aims to encourage and empower Emirati youth, between the ages of 15 and 35 years, to follow their passion for science with interactive, hands-on activities in the fields of engineering, energy, aviation and other technological industries.

The winning projects were selected from among 235 projects that were developed and completed by more than 640 university and high school students. The projects competed at the national level in the science categories of electrical engineering, environmental sciences and management, industrial and mechanical systems, energy, smart and safety systems, physics and chemistry, transportation, aerodynamics and aviation.