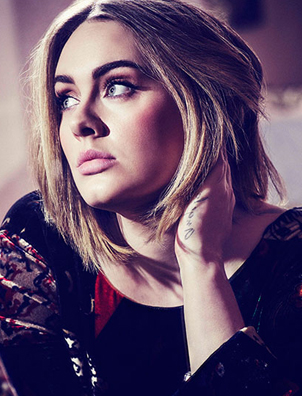 Adele Named Top Artist at the 2016 BillboardMusic Awards
23/5/2016_ People.com/ The "Hello" singer, who wasn't on hand to accept the award due to her current tour, beat out Justin Bieber, Drake, Taylor Swift and The Weeknd for the top honor.

"It's lovely to be in everyone's company," Adele said in her video acceptance speech, adding, "I'm about to go on stage!" Finalists are based on Nielsen U.S. year-end chart performance – determined by collecting data on sales, number of downloads and total airplay. Michael Jackson has 40 career wins – the most by any male artist. Janet Jackson has the most awards for female artist, with 33 wins.

Last year's winner in the Top Artist category was Swift, who also took 2015's Top Billboard 200 Album for 1989. Like any good awards show, 2016's BBMA were packed full with superstar performances, beginning a Britney Spears medley of her greatest hits. Spears also went on to accept the prestigious Millennium Award – an honor previously given to Beyoncé and Whitney Houston.




In one of the evening's most talked-about moments, Kesha took the stage for a tender cover of Bob Dylan's "It Ain't Me, Babe." The 29-year-old singer'songoing legal battle with Dr. Luke and his record label Kemosabe Records originally barred her from taking the stage – but the team reached an agreement after video leaked of Kesha singing the song with Ben Folds at a recent concert.

Celine Dion received the evening's lifetime-achievement ICON Award, following in the footsteps of Neil Diamond, Stevie Wonder, Prince and Jennifer Lopez. Dion covered Queen's "The Show Must Go On" on the program – her first televised performance since her husband René's death. She was joined byYouTube star and electronic violinist Lindsey Stirling for the emotional tribute. Madonna also to took the stage, adding to the evening's tributes with an emotional performance for the late Prince.