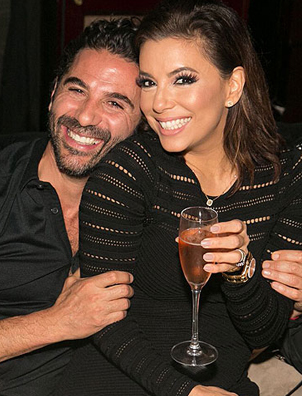 Eva Longoria and José Antonio Bastón Are Married!
22/5/2016_ People.com / The couple hosted roughly 200 guests at a private residence and planned to finish off the big day with fireworks.

"They married on an altar under lots of little lights,". "It was very romantic. Eva wore her hair down and smiled during the whole ceremony. He was in a gray suit."

In photos posted by Al Rojo Vivo, a Telemundo news program, Longoria and Baston can be seen exchanging their vows in front of a giant white cross overlooking the lake. Longoria wears a sleeveless white gown with a long white veil. Ahead of the ceremony the star-studded guest list was expected to include David and Victoria Beckham, Penélope Cruz,Ricky Martin, Katy Perry, Mario Lopez, Prison Break alum Amaury Nolascoand Jane the Virgin's Jaime Camil.

In a photo posted by Al Rojo Vivo, Victoria and David Beckham are seen mingling with guests on an outdoor terrace. The couple spent the day hanging out by the pool with the Beckhams and Martin.

"Eva just looked so happy," the source says. "She didn't seem the least stressed about her wedding. You could tell that she very much she enjoyed celebrating her special day with friends."

The Desperate Housewives actress, 41, and her new husband, 47, first stepped out as a couple in November 2013. Bastón, president of Latin American media brand Televisa, proposed during a vacation in Dubai in December with a stunning ruby engagement ring.

"He was the most handsome man I'd ever seen. He was so charismatic, charming, sweet and funny. I thought, 'Who is this guy?!' " she said.

This is the third marriage for Longoria, who was previously married to actor Tyler Christopher and NBA star Tony Parker.