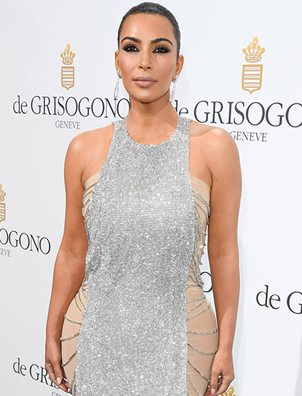 Kim Kardashian, Bella Hadid, Robert De Niro and More Arrive for De Grisogono Party at Cannes
18/5/2016_ People.com/ The stars are descending on the exclusive Hôtel du Cap for the annual de Grisogono jewelry Cannes party, one of the swankiest and most star-studded events of the film festival.

Milla Jovovich and Bella Hadid are the guests of honor this year, headlining a list of more than 600 actors, models and top jewelry clients gathering for dinner on the shore of the French Riviera.

Kim Kardashian, Ivana Trump,Chris Rock, Robert De Niro and his wife, Grace Hightower, Kanye West, Chanel Iman and more were spotted arriving at the hotel, located just outside Cannes in neighboring Antibes. Leonardo DiCaprio and Katy Perry are also expected to attend.

Kardashian, wearing a glimmering silver chainmail gown, was seen walking to her table arm in arm with de Grisogono founder Fawaz Gruosi. Scott Disick, Kourtney Kardashian's ex-boyfriend (who's been romancing model Christine Burke in Cannes), sat with Kardashian matriarch Kris Jenner, whose dress had to be repaired after it ripped on the red carpet. Gruosi began hosting the party in 2000 with a modest 50 guests, including Jovovich, who was a guest of honor that year as well. "We have models, actresses, my friends, clients, everyone here. It has grown into a big party [over the years],"

Gruosi plans to spend nine days at Cannes, where he will present his new collection, featuring the largest number of pieces he has ever transported to the festival. It includes a cocktail ring with a pear-shaped 10 carat yellow diamond surrounded by black diamonds worth over $500,000. He also plans to show off an over 400 carat rough diamond that once cut will be one of the biggest diamonds ever created.