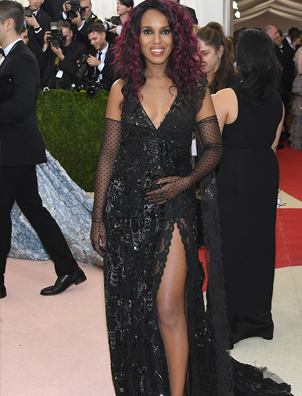 Kerry Washington Is Taking a Break From Social Media as She Prepares for Baby No. 2
18/5/2016 _ eonline/ The expecting mama took to Instagram to explain to her fans and followers that she is taking a little break from social media in order to focus her attention inward.

Posting a video of a heart engraved in the sand as she walks along the beach, Kerry wrote, "It's time for me to take a teeny break from social media. Feeling called to be a bit more quiet and still." "Not sure how long it'll last but don't worry, I'll be back soon enough," she continued. "This space has become such a community. I'm very grateful. Thank you."

She also wanted to assure fans that she sends her love as she goes her own way for a bit. "I'll be thinking of youz and I'm sending love to you wherever you are... #MermaidGram."

Meanwhile, news broke in early May that Kerry and her husband Nnamdi Asomugha are expecting their second child together. The actress' baby bump was on display for the first time when she attended the2016 White House Correspondents' Association Dinner and then again during the 2016 Met Gala.

The couple are already parents to their daughter, Isabelle, who was born in May 2014, and they have been adamant about raising her out of the public eye. "I will say I feel really, really blessed," Kerry gushed to the Los Angeles Times in one of her first interviews after welcoming her baby girl. "I just feel really blessed that I'm kind of living extraordinary dreams come true in my work life and in my personal life."