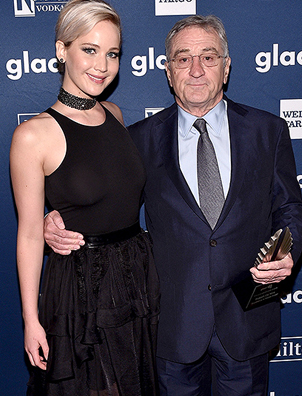 Jennifer Lawrence on Robert De Niro: 'I'm Like a Daughter to Him'
16/5/2016 The actress revealed that she feels "like a daughter" to the famed actor while presenting him with an award at the 27th annual GLAAD Media Awards in New York City.

"Bob had asked me to present him with this GLAAD Excellence in Media Award," she said while introducing De Niro, who was being honored for producing Remembering the Artist, Robert De Niro Senior, a documentary about his father, Robert De Niro, Sr., who was gay. "I'm like daughter to him, and that transpired into our once-a-week drinks at the Greenwich Hotel where I get advice on absolutely everything.

"As one of the greatest actors who has ever lived, you can learn a lot from him," Lawrence continued."But the most important thing he's taught all of us is acceptance. Bob is the kindest person I've ever met. His heart is so giving. And with his own quiet strength, it is no wonder that this man and the incredible organization that is GLAAD would come together tonight.

Bob was deeply touched by his father, a wildly talented abstract expressionist painter, the late Robert De Niro Sr., a gay man who struggled with self-acceptance at a time when organizations like GLAAD were not around," she continued. "In the HBO documentary, Remembering the Artist, Robert De Niro Sr., he shared his father's story with the world."

She added, "Bob, you are wise and you are loving and the world is truly a better place because of you." "Thank you, Jen. If I were a lesbian, I'd be all over you," De Niro quipped while accepting his award. "Being a father figure has its limitations. Jennifer Lawrence is not only a great actress, she's a respectful and loving friend."