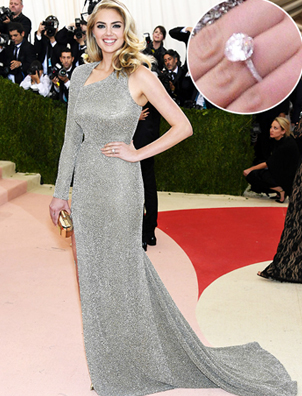 Kate Upton's Engagement Ring from Justin Verlander Is "the Most Perfect"
9-5-2016/ Talk about some Met magic. Kate Upton decided to share some big news at this year's fashion prom she's found her lifelong prom king! The star announced her engagement to boyfriend Justin Verlander on the Met Gala red carpet. She also accessorized with a very important piece of jewelry — her huge diamond engagement ring!

"I'm really excited, he asked me right before season started so we've been keeping it on the down low for quite a while," she said of her engagement to the Detroit Tigers pitcher. "So I'm excited to finally be able to share it with the world!"

Jeweler Anita Ko, who worked with Verlander to create the sparkler, created a unique twist on the popular single solitaire, setting the (enormous) center stone inside delicate "swags" of pavé diamonds and setting it all on a diamond-studded band. "Justin and I collaborated on creating the most perfect one-of-a-kind ring that is rare and of exceptional quality, just like their love," Ko said.

She added that they are "really enjoying their engagement" right now and have no wedding plans just yet. The couple went public with their relationship in early 2014.

Upton paired her bespoke corseted Topshop gown (featuring metal sequins!) with an edgy ear cuff and metallic clutch. She even got a haircut before leaving for the red carpet.