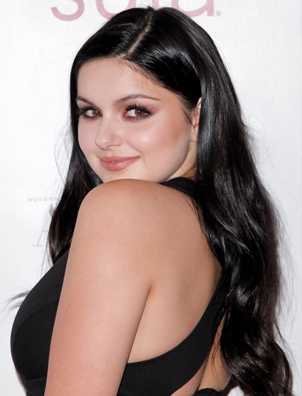 Ariel Winter Thanks Her Sister for Being the "Most Amazing Mother"
9-5-2016/ As the Modern Family star remains estranged from her mom—they haven't spoken in more than three years—the actress gave thanks to Shanelle Gray who has served as a mother figure for many years.

"#HappyMothersDay to this insanely beautiful woman inside and out, my sister, my best friend. I love you so much. You are the most amazing mother I've ever known and we are all so grateful for you!" Arielwrote on Instagram Sunday evening. "Although I'm now 18 and mommy role is over, I will always have a special place in my heart for those years you raised me as your own."

Ariel continued, "So this day is your day, because you deserve the world! I always feel so lucky that I have such an amazing role model. I hope one day I can be as wonderful as you. I love you more than anything and am so grateful to have you. Thank you for being the most amazing person on this planet and for being my everything."

For those who haven't followed Ariel's family history, the 18-year-old has faced several years of legal battles in order to become emancipated from her mother. The courts ultimately granted her request in May of 2015.

Since then, the actress was accepted into colleges, enjoyed high school prom with her boyfriend and has experienced major life events without her mother around.

Ultimately, Ariel is grateful for the life she is living today. And yes, she's learned some lessons along the way. "Don't take anything for granted, for sure, because I have an amazing life now, but I know what it's like to not. So I definitely am grateful for everything I have. Everyone I have. Everything I have," Ariel recently shared on Good Morning America. "And to always—not in a selfish way—but always put yourself first. I think it's really hard a lot when you're in certain situations to be able to do that, but I think it's really important to love yourself and be there for yourself first before you do anything else."