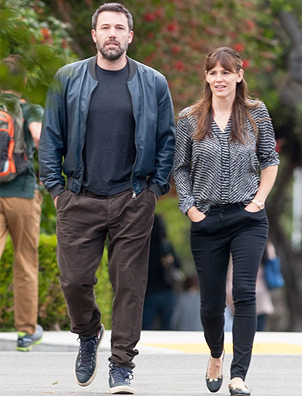 Jennifer Garner, Ben Affleck & Kids Go on Family Trip to Paris
8-5-2016/ The 44-year-old actress and 43-year-old actor are vacationing in Paris with their kids, daughters Violet, 10, Seraphina, 7, and Samuel, 4. The family was recently spotted walking in the French capital, along with a female assistant.

Garner and Affleck had announced in late June 2015 they had made the "difficult decision to divorce" following 10 years of marriage. The two have since been spotted together often, usually with their children. In addition, the couple still lives with the kids at the same property in Los Angeles.

In Paris, Garner was seen with the assistant carrying a couple of pizza boxes and other take-out as they headed to a hotel where the family is staying. She and Affleck were also spotted Friday leaving the hotel from the back entrance. They dined at a nearby restaurant with their children and also hit up an ice cream shop and park.

Affleck is currently filming the movie The Justice League Part One in London, an hour-and-15-minute-flight and three-and-a-half-hour train ride away from Paris. in which he reprises his Batman v Superman: Dawn of Justice role of Batman. "They were really excited to show their kids Europe,"adding that Garner plans to travel back and forth to Paris while he is shooting.

In April Garner and the kids planned to visit Affleck while he shoots the DC Comics film and would berenting a property in London for about a month. "They continue to do what's best for the kids," a source had said. "They are in a really good place right now," "A lot of the dust has settled and they have become accustomed to their new life, which is separate but together in a lot of ways. They continue to make the family their first priority and they have always been on the same page about that."