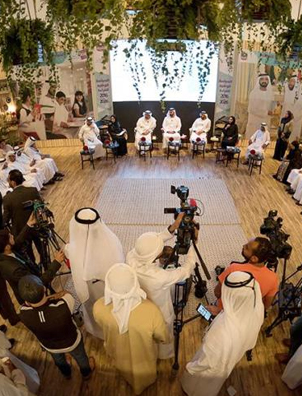 UAE President directs National Reading Law
His Highness Sheikh Khalifa bin Zayed Al Nahyan, President of the UAE, has given directions to start the legislative procedure of drafting a UAE National Reading Law, which aims to ensure the sustainability of all government efforts to consolidate reading in the UAE for all ages, as well as identify the key responsibilities of government agencies in the field.

The law comes as part of the National Policy for Reading in the UAE, which was announced this morning at a press conference during the Abu Dhabi International Book Fair. Also under the policy, the National Reading Strategy was adopted by Vice President and Prime Minister and Ruler of Dubai His Highness Sheikh Mohammed bin Rashid Al Maktoum – the strategy, which carries through to 2026, includes 30 main national initiatives sectors including education, health, culture, social development and the media and content industries.

The media event, addressed by five Federal Government Ministers, also saw the announcement of a AED 100 million fund, backed by H.H Sheikh Mohammed bin Rashid Al Maktoum, to support all reading activities specifically for NGOs and volunteer based agencies.

Additionally, the details of a number of initiatives were shared at the event, including the adoption of one month each year by the UAE Cabinet to be dedicated to reading; the distribution of 'Bags of Knowledge' to new born citizens of the UAE; directions to enrich national reading content; a detailed review of publishing policies in UAE intended to support local publishers and the inclusion of elective social reading into the UAE curriculum as a measurable element of educational institutions.

In this context, His Highness Sheikh Khalifa bin Zayed Al Nahyan stressed, "The UAE has moved during the past few decades from a country seeking to reduce illiteracy to a country seeking global competition in technical and scientific fields. Reading and knowledge are our path to excel and compete." He added, "All reading policies and strategies are policies for building the nation and establishing educated, conscious, empowered and tolerant people. Our goal is to prepare our future generations to achieve developmental leaps, underpin our national leadership goals, strengthen our competitiveness and achieve our future vision for the UAE."

His Highness commented on his direction to issue the National Reading Law: "The goal of the Reading Law is to provide a sound basis for lifelong learning for all members of our community and enhance the mental, intellectual and cultural assets of our people." He added "The Reading Law will institutionalise and sustain efforts to make reading a key element of the work, jurisdiction and mission of a number of government agencies."

For his part, His Highness Sheikh Mohammed bin Rashid Al Maktoum confirmed that, "The United Arab Emirates, under the directives of His Highness the President, will be a pioneer in our region in issuing a law intended to promote, consolidate and support reading." He highlighted that the law will begin its legislative cycle during the coming few weeks.

His Highness said, "The consolidation of reading for our new generations is a long-term effort. Its consequences are profound and the government can't make a difference alone without the efforts of families and all community initiatives from government and private institutions as well as associations of publishers, writers, intellectuals and professionals." His Highness added, "Our current generation is suffering from a reading crisis, and we will not flatter ourselves when it comes to developing the future of this generation." He highlighted the superiority of the states and nations comes from facing challenges with courage and addressing them... "We have book fairs, cultural festivals, literary and poetry awards and now a range of new initiatives to protect the language and encourage reading.