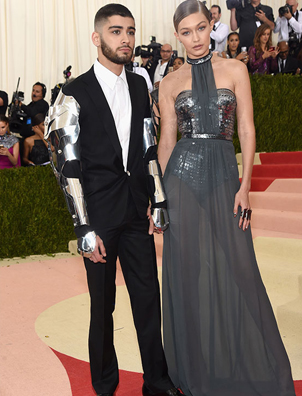 Zayn Malik Transformed Into an Actual Robot as He Makes Red Carpet Debut with Gigi Hadid
We already knew that Zayn Malik and Gigi Hadid were fully ship goals, but tonight at the Met Gala the former One Directioner proved he's also the model's literal knight in shining armor. All night celebrities have paraded down the red carpet wearing an assortment of looks very reminiscent of high fashion robots, with the major trend of the night being gowns totally covered in silver sequins. But Zayn took things to the next level of thematic precision, wearing actual metal sleeves over his black tie suit from Versace, and giving us all sorts of Heath Ledger in A Knight's Talefeels.

Gigi also stuck with the night's couture fembot theme in another custom all-grey look from Versace. Her Met gown featured a high collar attached to a sheer grey panel of fabric overlaying a fully sequined bodysuit, which was also covered by a full, sheer skirt that showcased the supermodels mile-long legs.

The couple not only took the evening's theme super seriously, but they did so while simultaneously nailing the automaton twinning look. Now if only we could only convince bae that matchy-matchy android is totally the look for this season so we could all ride off into the sunset and live happily ever after.