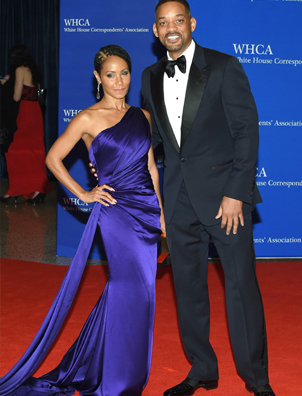 Will Smith and Jada Pinkett Smith Attend White House Correspondents' Dinner
The famous Hollywood couple arrived at the Washington Hilton Hotel Saturday night in honor of the annual White House Correspondents' Dinner. Throngs of photographers were excited to spot the couple as they walked into the room filled with political elites and A-list stars—among them actors Kerry Washington, Carrie Fisher and Morgan Freeman.

The Gotham actress stunned in a purple satin one-shoulder gown designed by Romona Keveza while her husband looked equally elegant in a classic tuxedo. The pair got a highly coveted ticket to the night's affair as guests of ABC.

hey famously did not attend the Academy Awards this year after Jada protested the lack of diversity among the actors and actresses nominated in the top acting categories.

"At the Oscars...people of color are always welcomed to give out awards...even entertain," she wrote on her Twitter account. "But we are rarely recognized for our artistic accomplishments. Should people of color refrain from participating all together? People can only treat us in the way in which we allow. With much respect in the midst of deep disappointment."

"This is so deeply not about me," the Concussion star later said in an interview on Good Morning America. "This is about children that are going to sit down and they're going to watch this show and they're not going to see themselves represented."