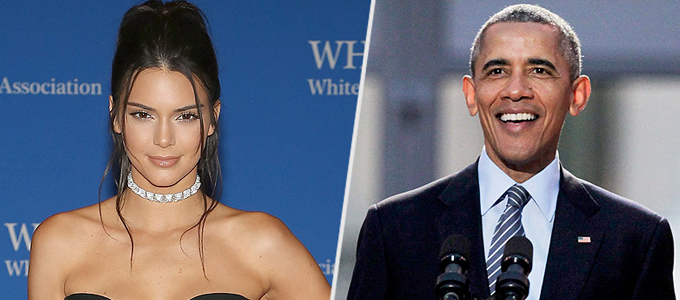 Kendall Jenner Met President Obama at WHCD: 'He Was Like, Say Hi to Kim and Kanye
The model started the night off on an exciting note, shaking hands withPresident Barack Obama before heading into this year's Nerd Prom.

And what did Obama say to Jenner upon their meeting? "He was like, 'Say hi to Kim and Kanye,'". "I was like 'Okay.'"

And Jenner said that while she typically never gets starstruck, meeting POTUS did the trick. "Never," she said. "That was like my first time, ever."

She's not the only one: Kardashian matriarch Kris Jenner was psyched for her daughter's big night. "She's already Instagrammed it,". "I know she's proud. She's all over it." As for Obama, he addressed meeting Jenner in his speech later in the evening.

"Kendall Jenner is also here. We had a chance to meet her backstage and she seems like a very nice young woman," he said. "I'm not exactly sure what she does but I am told that my Twitter mentions are about to go through the roof."