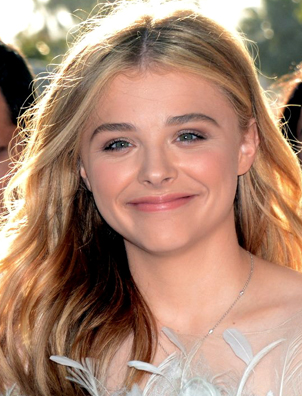 Gorgeous young star has been gracing the screens Chloe Grace Moretz..
Chloë's first two appearances were as Violet in two episodes of the series The Guardian(2001). Her first movie role was as Molly in Heart of the Beholder (2005), a story about a family that opened the first video rental store in 1980. This was followed by a small role in Family Plan (2005) as Young Charlie. After that, however, came Chloe's biggest role, and the one that made her famous: The Amityville Horror (2005), the remake of the famous The Amityville Horror (1979). Next she landed a small role in Today You Die (2005) as the Little Girl, and has since appeared in Room 6 (2006) and Big Momma's House 2 (2006). She filmed Wicked Little Things (2006) in Bulgaria, in which she plays Emma Tunney. In 2007 she completed The Third Nail (2007), in which she appeared as Hailey Deonte.

In 2010 she appeared as Hit-Girl in director Matthew Vaughn's action film Kick-Ass(2010), based on the comic book series of the same name by Mark Millar and John Romita Jr. Although her role in the violent action film engendered some controversy, she received widespread critical acclaim for her portrayal. Moretz trained with Jackie Chan's stunt crew for three months prior to filming "Kick-Ass" and did most of her own stunts in the film. Also that year she played Abby, a 12-year-old vampire, in Let Me In(2010), the UK/US remake of the Swedish film Let the Right One In (2008), which was released on October 1, 2010. She played Ann Sliger in the crime thriller Texas Killing Fields (2011), released on October 14, 2011.

Chloe next played Isabelle in Martin Scorsese's Hugo (2011), a film adaptation of "The Invention of Hugo Cabret". "Hugo", which was nominated for 11 Oscars, co-starred Asa Butterfield, Ben Kingsley, Sacha Baron Cohen and Helen McCrory. Moretz then starred in Hick (2011), an adaptation of the novel by Andrea Portes. She was in Tim Burton'sDark Shadows (2012), based on the iconic TV series Dark Shadows (1966), playing the role of Carolyn Stoddard, a rebellious teenage daughter.