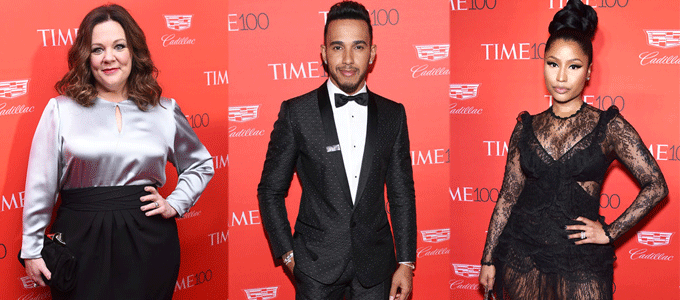 Melissa McCarthy, Lewis Hamilton, Nicki Minaj and More Stars Stun at TIME 100 Gala
Nicki Minaj, Lewis Hamilton, Karlie Kloss, Ariana Grande, Caitlyn Jenner and many more notable names put on their best to celebrate 2016 Time Most Influential People honors at Time 100 Gala held at the Jazz At Lincoln Center in New York City.

Leonardo DiCaprio was featured on the annual TIME 100 cover along with five of this year's most influential nominees, including rapper Minaj, actress Priyanka Chopra Broadway'sHamilton creator Lin-Manual Miranda and Facebook founder Mark Zuckerberg.

In addition to the six cover stars, the issue also honors dozens of "forces that move us," including Pope Francis, Ronda Rousey, Grammy winner Adele, Republican presidential candidate Donald Trump and Jenner to complete the yearly 100 list. See all of the celebs as they graced the star-studded red carpet!