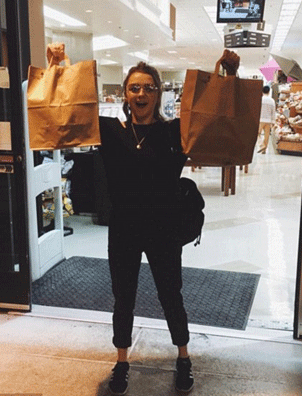 Maisie Williams shocks Game Of Thrones fans as she crashes their season six viewing party
And Maisie Williams - who plays Arya Stark in the hit HBO series - was up to another trick on Sunday as she surprised UCLA students by crashing a viewing party they'd thrown to celebrate the launch of season six.

Documenting the evening's events on Instagram, the 19-year-old actress started the hoax by sending out an innocent tweet to track down some lucky fans.

Any UCLA students having a viewing party tonight?' she posted. 'Tweet a picture of your party using #GameOfThrones for a surprise.'

She then ignored responses from fans, leading them to think she would have no further involvement in the matter. But the pretty brunette - who has starred in Game Of Thrones from the first season when she was just 14-years-old - had already began phase two of her plan, picking up snacks to bring to the party.

Posting a selfie, Maisie explained: 'I found a couple, Mark and Kate, film students, who were throwing a party at their apartment, with a few friends. So at 8pm we left the hotel to go get snacks.' Posing with her arms ladled with treats, she continued: 'We saw (on Twitter) that Mark and Kate had already made Game of Thrones themed snacks, and decorated their apartment, but who doesn't love extra popcorn and crisps?'

Explaining that she could hear the party going on from the street, she shared a snap of herself meeting one of the fans as she revealed: 'Firstly, I met Mark. The buzzer was broken so Mark came down to let us in. After exhaling a "HOLY S**T!", we hugged it out and he helped us inside.'

The duo then decided to surprise the rest of the fans by letting Maisie walk in unannounced to their shock and delight. The group then caught up on the end of season five before waiting to watch the new series opening. And whilst the students were overwhelmed to meet Maisie, she was more excited by the food on offer as she wrote: 'I went there to surprise them with snacks, but when I got there, I found myself trying one of every single snack they had made.'

But whilst Maisie seemed to make herself comfortable around the fans, she definitely would not have been sharing any spoilers with them, after recently revealing that she refused to give away any plot information. 'People feel like they want to know what's going to happen, but they don't really want to know,' she explained to the Press Association when asked about spoilers. 'They wouldn't want it spoiled for them. So it doesn't feel like I'm keeping a deep, dark secret.

'It feels like, "Just wait! It's going to be so much better with you sitting down and watching it, than with me ruining it for you by explaining it now.'"