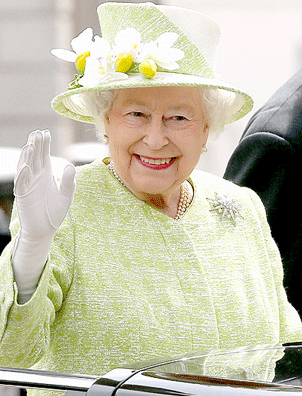 Queen Elizabeth Is Radiant In Green as She Celebrates Her 90th with Her Subjects
Wearing spring grass green wool and silk weave coat and matching hat accented with flowers – made by her personal assistant and chief dresser Angela Kelly – the record-breaking monarch spent about 20 minutes receiving bouquets, gifts and even a cake alongside her husband of 68 years, Prince Philip.

Tyler handed over a cake decorated with a corgi to a lady in waiting. "One of us called out, 'Each time we see you, you look younger.' She smiled." The first hint she was to appear came when the band of the Coldstream Guards played "God Save The Queen" at mid-day. She was driven in her burgundy Bentley through the Advance Gate of Windsor Castle, where she got out at the King Henry VIII gate. Then, when she stepped out, the Coldstream Guards band led the musical welcome, with "Happy Birthday."

She then began her 100-yard walkabout down Castle Hill, before turning left down the High Street for another 80 yards to the 17th-century Guildhall. Halfway down, Prince Philip delivered some of his customary quick-wit. Seeing two Yorkshire terriers (named Wallace and Gromit) he asked owner Denis Melvin where he'd come from. He had traveled from south Wales – about 100 miles west along the M4 highway. "Have you taken the wrong turning on the M4?" Philip asked with a smile.

Philip, who turns 95 in June, showed his surprising strength when he lifted a little boy over a barrier so he could meet the Queen.

Four-year-old Ethan Lynch had been waiting to catch a glimpse of the Queen since 7:30 a.m. with his grandmother, mother and sister. The family chatted with Philip, who then picked up Ethan and carried him over the three-foot metal barrier so he could give the Queen some flowers.

"He just lifted him over the barrier and asked if he wanted to bring flowers over," Ethan's mother Elizabeth told reporters. "He was so chatty and obviously loves children." Ethan's grandmother Teresa then told reporters, "For his age – to lift a boy that size is impressive."

After stopping at the town's Guildhall, the Queen and Philip got into an "open state review" Range Rover (a.k.a. the "Queenmobile" for a drive through the streets of Windsor.

"She looked beautiful, glowing," said Donna Werner of Connecticut. "She smiled and nodded her appreciation for honoring her on her special day."