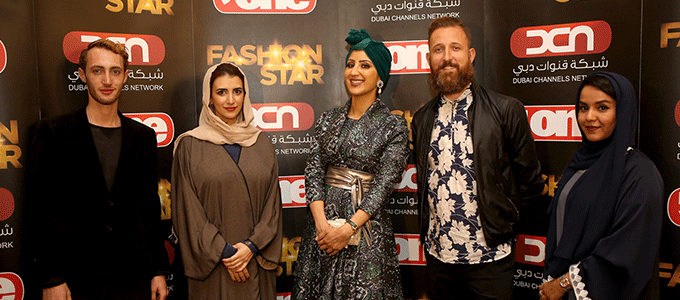 Dubai One celebrates "Fashion Star" winner, Arwa Al Ammari
Dubai: April 24, 2016: In culmination of the success of season one of "Fashion Star" program, recently broadcasted on Dubai One channel, achieving very high viewership in the Arab world, the Dubai Channels Network (DCN)'s affiliate channel held a press conference in Dubai Design District (D3) with participation of Saudi Arabia's Arwa Al-Ammari, winner of the first season of 'Fashion Star'. Arwa showcased a special fashion show in the presence of a number of DCN directors, local, Arab & international press, sponsors and partners of the show.

Sarah Al Jarman, director of Dubai One channel, thanked all sponsors and partners who contributed in highlighting the importance of "Fashion Star" as the first Arabic show that cares for elite Arab talents in the field of fashion design by providing all the necessary support, such as NAMSHI.com, the exclusive partner who presented the award worth Half a Million Dirhams for the winner through producing and selling the winner's collection on NAMSHI.COM website, as well as thanked Samsung Electronics, Dubai Design District (D3), and Arab Fashion Council, which will offer to the winner the chance to participate in the International Fashion Film Festival Awards, and many participations in various fashion weeks in Dubai and Internationally.

Sarah Al Jarman stressed DCN's keenness on providing the best, innovative and unique content to its viewers, after the great success of recent programs presented by the network, such as "Fashion Star" on Dubai One and Dubai TV, which achieved high rates of viewership topped the list of reality shows in UAE and KSA, providing a real opportunity for all Khaleeji and Arab talents to excel in the field of fashion design throughout the Arab world to succeed internationally, in full excitement and adventurous atmosphere to stand on stage and showcase their latest designs and collections for the first time on the screens of Arabic Television.

Al Jarman highlighted the huge production preparations and facilities that has been allocated by Dubai Channels Network and production company for the show, which was tendered for the first time with such momentum production in addition to the participation of elite young designers from various Arab countries to take advice and guidance from the renowned world designer Reem Acra, along with her outstanding team including Tunisian model & "Lancôme" cosmetics ambassador, Hanaa bin Abdul Salam and global creative director of Kuwait's Al Ostoura Fashion Co. Ramzi Tabaiat, as well as the participation of Tunisian supermodel and actress Leila Ben Khalifa as presenter of the show, in addition to hosting a number of fashion designers and international experts in the world of fashion in each episode.

Sarah Al Sayegh, Marketing Director of DCN, pointed that the success of the program came through viewers follow-up and interaction with the contestant designers in a first program on Arab television, thus achieving exceptional viewership, while DCN already launched a broad marketing campaign through outdoor advertising, shopping centers and websites as well as social and digital platforms all highlighted the uniqueness of the program introducing real talents that deserve stardom in the world of fashion design.

Al Sayegh added that, the march of designer talents who participated in the program does not stop at the final episode, but continues, thanks to "Fashion Star" opening the door wide for these talents to step into global fashion world, like Saudi Arwa Al-Ammari, who won the title of "Fashion Star" after tough competition among 12 contestants from different Arab countries, to offer today a set of her new designs and innovative collection, on NAMSHI.COM, in addition to the opportunities to be provided by Arab Fashion Council, Dubai Design District (D3) and many other sponsors and strong partners.