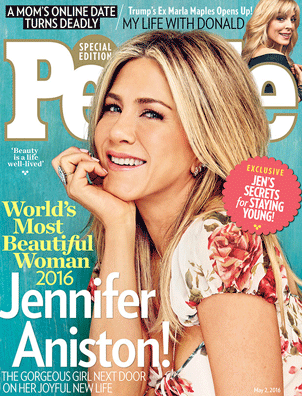 Jennifer Aniston Is People's ''World's Most Beautiful Woman''
The Mother's Day star opened up to the mag about this year's honor, saying she was humbled and "very, very flattered" when she first heard the news. "I thought, 'Oh my God,'" she said. "There was this sort of very excited, teenage-y kind of moment."

Aniston—who listed Gloria Steinem, Lauren Hutton and Brigitte Bardot as her beauty icons—said she feels "really beautiful when I've finished a great workout." Maintaining a healthy diet and exercising regularly has been part of Aniston's life for decades. "It's funny, it's a really quick transition from not a care and now all of a sudden, we've got to really be mindful of what we put inside our bodies," she said. "And how we sleep and take care of ourselves. You can get away with a lot in your 20s."

Known for her healthy diet, the 47-year-old actress also confessed, "I'm not as strict as I was. It was always sort of a monitored watch. Then I thought just give yourself moderation." So, how did Aniston define beauty? "Inner confidence. Peace. Kindness. Honesty. A life well-lived. Taking on challenges and not feeling shame for things that haven't gone the way you felt they should have," she said. "And not feeling like a failure or allowing people to critique your life and make you feel like you've failed at something. That's just toxic noise."

It's no secret that Aniston was genetically gifted from the start, but the formerFriends actress has been dishing all sorts of helpful beauty advice lately. In fact, in her recent interview with Vogue, the actress dished that "less is more, less makeup, less full, and just more natural, which I kind of prefer." Justin Theroux's leading lady added, "I've found that anytime I try to do some kind of fancy hair or makeup routine or skincare routine, it gets more complicated."

She also shared her ultimate tips when it comes to staying as healthy as possible: "This is the only body we're given, we need to be really good and mindful of what we eat and how we take care of our skin—getting a good night's sleep is extremely important, as is hydrating with water, water, water. It's so important to getting that extra glow." What she said!

Last year, the winner for People's "World's Most Beautiful Woman" went to Sandra Bullock, who joked that she find the title "ridiculous." "Real beauty is quiet. Especially in this town, it's just so hard not to say, 'Oh, I need to look like that. No, be a good person, be a good mom, do a good job with the lunch, let someone cut in front of you who looks like they're in a bigger hurry," Bullock told the mag at the time. "The people I find most beautiful are the ones who aren't trying."